At the risk of sounding immodest, I'm going to write this bio in the first person. Usually you would read something like, "Dave Foreman started out as a child." Well, since I'm Dave Foreman, it sounds weird writing about myself like that. Sounds like Bob Dole.

So here goes:

I'm Dave and I spent thirty plus years in the advertising business. I was a radio announcer before that and still keep my hand in (or rather, my voice in) by doing commercials. I started in the ad business as a writer and it's still one of my favourite occupations and pastimes. I am a former president of Gordon Hill Advertising Western Ltd., the Western Office of a National Agency and formed my own company, Signal Marketing Services in the seventies.

After 25 years of operating Signal, I took a full time position as General Manager of The Manitoba Electrical League Inc.

The following is my retirement notice as it appeared in Electrical Line Magazine.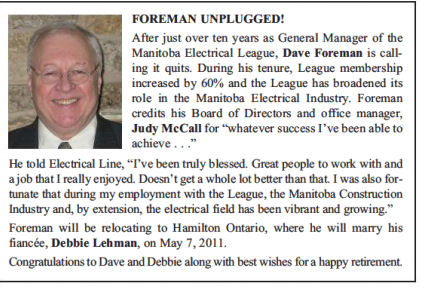 So that brings us to the present.

I now operate my own part time business, Dave Foreman Consulting Services Ltd. (not a fancy name but it tells you what I do) from my home office in Burlington, Ontario. My business and life partner is my wife, Debbie.