Did Dark Night Kill Heath Ledger?
By MISHA MCGLOWN
Rated "PG" by the Author.


Last edited: Sunday, January 27, 2008
Posted: Saturday, January 26, 2008


Share
Print
Save
Become a Fan
Speculation over whether Heath Ledger's final finished performance contributed to his untimely death.
Like many people, I was struck by the news of Heath Ledger's passing earlier this week. Suicide did not come to mind. Nor did foul play. My first and only thought was that he had over-medicated, not unlike Anna Nicole. And, again, I thought about the kind of reform that might need to happen with regards to pharmaceuticals, none of which can be considered safe.

In one of the first breaking stories about Ledger's untimely death, an MSN writer referenced a New York Times interview he had done in late 2007. Ledger said he "stressed out a little too much" while portraying an incarnation of Bob Dylan in "I'm Not There." He acknowledged that his brooding character in "Dark Night" drained him, both physically and mentally, and caused him to have trouble sleeping.

Ledger assumed the role of The Joker in the upcoming summer blockbuster. This Joker, however, is a lot more frightening than the more comical Nicholson portrayal we are accustomed to seeing. Ledger described the character as "psychopathic, mass-murdering, schizophrenic clown with zero empathy." He discussed how he had gotten no more than two hours of sleep each night while filming the movie.

"Last week I probably slept an average of two hours a night," Ledger told The New York Times. "I couldn't stop thinking. My body was exhausted, and my mind was still going." He said he took two Ambien pills, which worked for only an hour, the newspaper said. This was poignant, I thought.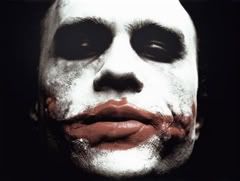 What would the average person do if he found himself desperately in need of sleep when a double-dose of his prescribed sleep aid was not working? Ask for a stronger prescription, perhaps? Maybe make a request (or accept a recommendation) for an anti-anxiety prescription. Or, maybe just wait a while and, after not getting the desired results, take another dose of the original sleep aid. Two more hours have passed and he's still not asleep. Perhaps our guy will add the anti-anxiety pill to the mix already swirling around in his system.

The autopsy will, hopefully, reveal the truth but, in the meantime, investigators found five to six types of prescription drugs in Ledger's apartment – various forms of sleep aids, and one anti-anxiety prescription, similar to Valium. In a Newsweek article, medical professional, Terrence Blaschke, M.D. described how any combination of these could become deadly within a very short period of time. It would be very easy, the doctor shared, for someone to inadvertently kill themselves in this way.

Ledger, a young, promising actor, had become increasingly drawn to more challenging roles. And, ultimately, he flourished at this – he was celebrated and we were entertained. I thought about a behind-the-scenes clip I had seen about the movie "Collateral." Filmmakers revealed an entire background for Vincent - Cruise's homicidal character - describing, in great detail, his depraved, neglected childhood, his rundown neighborhood, all the affects of his past that had led him to become this heartless assassin. Having already seen the actual film at that point, I reflected on it and realized none of these factors were shown, addressed, or even discussed within 120 minutes of the movie. This character background was intended solely for the purpose of Tom Cruise - so he could get inside the psyche and become that killer. This is all a part of being a good actor. Ledger, I'm sure, employed the same practice for his final finished performance, and I can only imagine that being inside the head of a pscyhopathic mass-murderer, for months on end, just might have a residual effect. Just might render you desperately sleepless, in need of mental and physical recovery…even when the filming is over.

Dennis Quaid comes to mind. He admittedly battled anorexia after having shed 40 lbs. to play the role of a dying Doc Holliday in "Wyatt Earp" in the 1990's. I wondered about Christian Bale - so emaciated I could not recognize him in "The Machinist." What must his physical recovery have been like? Although, their traumas were, more or less, physical, how long did it take them to get back to a state of normalcy?

Insomnia, anxiety, anorexia...these are all disorders. Disorders. Such intense roles can cause disorders. Some physical. Some psychological. Or both. Some of which might even lead to a fragile young actor's latent and untimely demise.

I just think it's a perspective worth exploring…