A Dark Story Poem...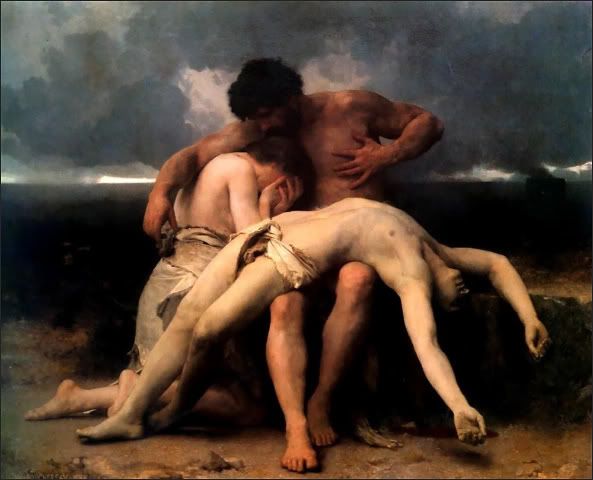 ADOLPHE BY: WILLIAM ADOLPHE BOURGUEREAU- November 30, 1825 – August 19, 1905
Owner of Indemnity
Repulsion astutely stood by the stone gate of immorality;
made sedatively of sorrows repellents to forbid love's addiction.
The gleam of golden rod were thrown beneath a heaping pile of rags;
which were saturated with life shrieking echoes of temerity's grief.
The solemn banks of broken glass were covered on the somber pier of regret,
like malicious sand castles of broken dreams constantly prodding revealing scars,
the charcoal seagulls were a narcotic torpor, tinged by shades of blood red.
Destructions apathy walked like a sordid drunk miser of molesting contempt's,
singing ole glory of some hated retribution of life's nasty greed's of lusted pride.
Spheres of shadows crawled across the vengeful rocks of passing judgments;
like insubordinate ashes across the dooming murk of the vaulted ebony sky.
Peek a dilly was the wastrel of fetishes, and always looking inside a voyeurs' stolen eye.
Beneath the tasteless gristle of dinner, as the plates turned into saucers of poison,
elusive secrets drank from the cup of hidden shame…pondering another refill;
just like ole jack hammering the jigsaw of nightmares unaware of minion's evil.
But the shadows danced across the walls like that slaved cancer stick lit on fire,
cloaked by the thunderous lightning bolts of iniquity smoking another blunt.
Fiendish prowlers lurked with all the criminal morals of an alley cat gone astray;
revolting obnoxious questions of self righteous savants, kneeling to vomit the truth.
Wickedly repulsed by their cruel owners of indemnity,
foul purposes followed ploys into the stench of those loathsome hungers;
being stoked for good luck;
while apparitions' of reality's subterfuge continue to stroke deceptions,
never knowing the senses of life…
In Joy, In Peace, In Grace, In Harmony of Love
Embraced ~ Embrassé
poétesse d'amour ~ poétesse romantique
Copyright© 2009 Poetess Victoria L. McColley
Thank You For Visiting...