FREE stuff which will only cost you a little bit of time....
Ok so this is a free idea....it is still a gift :)
This Work of Art Is From My Yard...A Master Piece of WEEDS!!
I do find many weeds to be very beautiful...
I am especially fond of Milk Weeds....
On with the project....You will need:
Whatever is in your yard or curb side
I used: Weeds, Sage, 1 Zinnia, Wild Grass Assortments,
Some Dried Willow, Live willow sprigs, & more weeds, and some
towering yellow wild flowers from the soy bean field...Ahhhh...
Let's Make an Arrangement....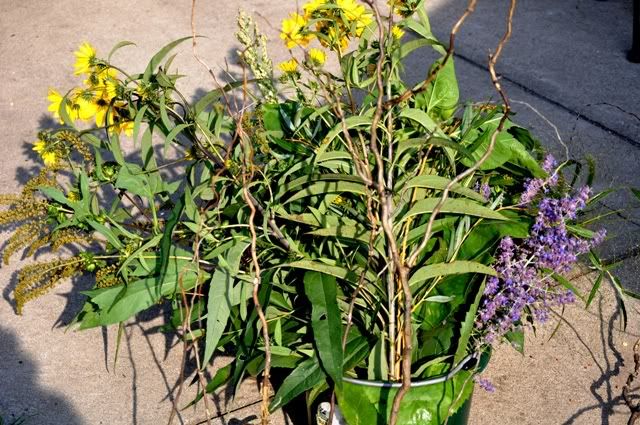 Cut everything on a slant & place in a bucket of water....
Then hose off the little visitors which will be there (lightening bugs, catterpillars...snail slugs....spider surprises!!)
Then cut everything again while holding UNDER water to the desired length of your vase.
WHY? Holding your stems under water will not allow air to get into the stem which blocks the absorption of water.....
...as for the live willow sprigs use a knife & skin off 2-3 inched of the protective bark if you can....
Why oh why didn't Vickie use pretty flowers? Why only 1 Zinnia?
Well these beatles were havin a pro-creational love fest on my blooms!
Good Golly Miss Molly! They were all over each other like a tag team...
Have You Ever Watched Them? OH! GOODNESS!!
This is an immature Morning Dove, that is why her feathers look like they do....
I have a flock of 20 now...so groovy!!
Now don't think for one second I don't like Rose Bouquets :)
Have a Fabulous Day!