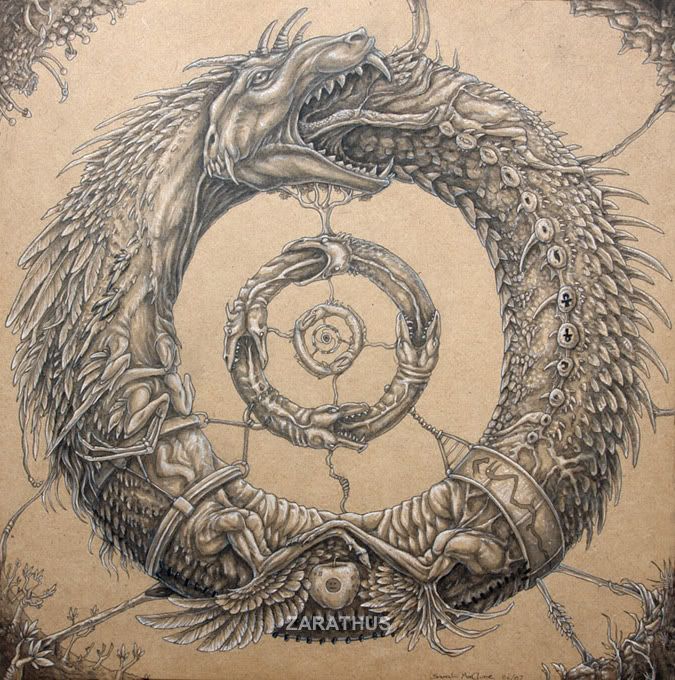 Photography Artist: zarathus
into archaic & aclemical philosophy/beliefs/interpretations from historic symbolisms. …waves of circles have been presenting themselves to be noticed. Walking in the harvested soybean fields are thousands of sparrows, and some days mere hundreds foraging the soybeans. I walk these fields with my boys (my 3 spaniels) & the sparrows on several walks have came to where I walk with my boys, and they circle over head in a tornado type funnel swarm. It is most amazing to hear the wind current they emit;
let alone their songs. The significance is the circle, and it is up in the sky over my head. Since sparrows do flock in large groups to seem bigger to their predators the swarm is not unusual, but coming to where I am seemed wild & meaningful since I also noticed the circle. I put away my front door wreath last week, the one mother robin builds her nest inside of since 2006. The wreath base is a circle, the nest itself is also circular….ok I could go on & on about circles….you get the idea…
Earlier this summer Shee has mentioned animal symbolisms to me. I have been reading,
and paying even closer attention to my surroundings & my visitors so to speak.
Circles, circles & more circles….This universal symbol then presented itself. Uroboros!
Also known as Ouroboros! (means devouring its tail). What is Uroboros anyway? Uroboros/Ouroboros is an archaic symbol= where the falcon/dragon (or snake) is seen biting its own tail…devouring itself…shocking!!! Oh wicked! Self destruction! Self consuming!! Evil monster…
Yes, this is a seriously misconceived & sometimes misunderstood symbol!
Self projection of a preconceived idea of a falcon/snake/dragon eating its tail weaves introspection's of misunderstood perception. Anything eating itself! Usually everyone is taught or learns "fears" towards a snake, and/or a dragon…or unknown elements.
But you see with this symbol…personal first impressions or a personal belief do not justify its truths…Obviously everyone's personal choices & belief will embrace their own thoughts & beliefs here. But for Uroboros/Ouroboros history is already
chiseled & carved… We all embrace it actually weather aware of it or not.
Early as the Egyptians! Maybe even earlier; Look at all the jewelry representations of UROBOROS!!! The circle…Unity.
Symbiosis…eating its own tail…This does make a lot of sense actually.
Creating out of death: Uroboros is symbolizing the cyclic patterns of our universe
(creation/destruction/recreation) New life given from death
(out with the old-in with the new) The "opening" mouth eating the tail represents the obvious completion of a "circle" (unending)
This forms symbolic oneness-wholeness-completions-unending (eternity)
Symbolizing rebirth…regenerations…rejuvenations… A representation of infinity
& also for wholeness of all completions into infinity. The ending is the beginning &
the beginning is also the end-there is no difference (oneness)
Uroboros circumvents within itself a representation of "self-reference" (rebirthing)
Offering the eternal essences recurring or moving in cycles (such as seasons)
This symbol represents many things to many cultures.
(…ahhh ha!...according to the relics…yes carved created discovered & in museums)
Eternality, Timelessness, Beginnings, Protection, Rebirth, Oneness, Wholeness,
….I can see it now…all these circles are meaningful to me. New beginnings/mouth opening (taking in) Egyptians give reference to Uroboros as the daily sun cycles (rise/setting) Gnostics give significance as spiritual meanings of truths, and continuums
of ever evolving unity for the soul of the "whole" world, and this oneness within recreations of all dualities is the symbol inside reintegration's for life wisdoms, and knowledge. There are even solor Uborous the Helix nebula; "God's Eye" or the Eye of God.
Uroboros is seen throughout all histories as an emblem of life sustaining insignias
through its own creation, recreation, protections, purifications, & eternities…
Uroboros is also associated with the Janus God of the beginnings-New Years
(Roman Mythology) beginnings, doorways, gates, opening, paths…peace
More reference is through death & rebirth in Orpheus Greek Mythology &
Orphic creations…
This universal symbol is an emblem of sustenance; a representation for sustaining life;
protecting creations of life. Uroboros surely is a powerful symbolic expression throughout time "Oneness" "Unity" "Completion" "Wholeness" & so much more
in a positive aspect of truths…The Circle of life…unending…Eternity…
Uroboros…shows itself to me in the sparrows, within my own life circle I embrace…
Where I am in unison with these divine elements of my life cycles…It's beautiful &
Also protective & in it I rebirth my emotional wealth's…My own circle of union…
It makes so much sense…Life has everything under control & in order since the beginning
Of time…Uroboros…Infinite…
(Written: December 7th, 2009 7:19 p/m)