Giving My Appreciation with My Personal Remembrances in Utter Respect of Yesterday for today & the unknown tomorrow may this Independence Day Fill Your Homes With Honor's Respect to All Our Forgotten/Unforgotten Heroes/Heroines who made it all possible for us to be free...
Fly Your Flag With Pride even if you're against the war...
Fly it for the Value of Life for Our Brother & Our Sister...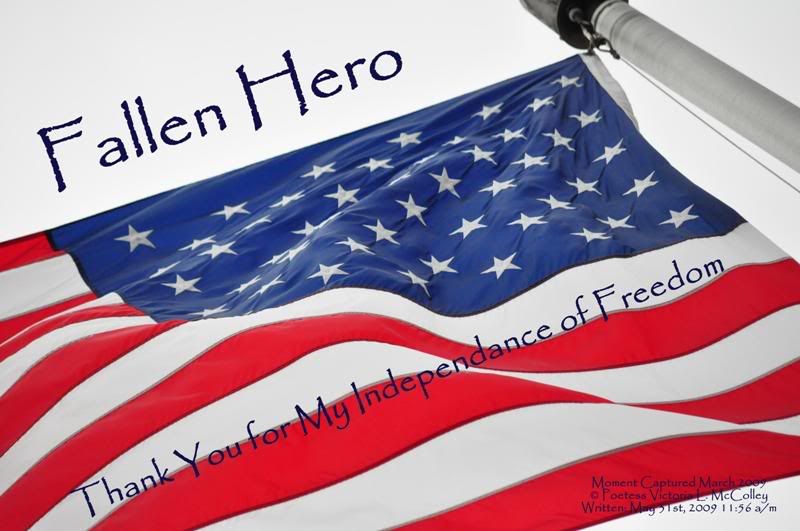 Fallen Hero
Alienated
within the abodances of life;
The tenacity of persistence
bound barbed chains
upon the ownership of fate…
Describing the future
within the suspended echo
of a haunted day dream;
Lacerations of reality
became the quill
of indecisions abeyance
Silently present
under the blankets
of a sorrower's
marbled stone…
The voice
of obliquity sounded out
hailing the thunders trumpet
of estranged visions;
Selecting the quantum's
of possibility
from the independence
of a nation under God;
the flag of freedom
fly's into the eventide
of tomorrows tattered fight…
to remember
within the spangled celebrations
of liberty exploding
into the sky
our fallen hero
is the heart
of our country's sovereignty
buried in shadows past of yesterday…
(Written: May 31st, 2009 11:56 a/m)
In Joy, In Peace, In Grace, In Harmony of Love
Embraced ~ Embrassé
poétesse d'amour ~ poétesse romantique
Copyright© 2009 Poetess Victoria L. McColley