CROSSROADS
by Victoria's Poetry & Voices of Muse
Rated "PG" by the Author.
Last edited: Sunday, January 13, 2013
Posted: Tuesday, February 24, 2009

Print Save Follow Share



Recent articles by
Victoria's Poetry & Voices of Muse
• Black Jewels
• You My Sweetest Wild Flower
• Authoress|Poetess: One Last Quill for the Feral Plighted Rue
• Inner Stillness
• Gentle Croon
• A Purpose Driven Life
• ...this is for you love
>> View all
My poem "Crossroads" (published in Captured Darkness)
being recited by my Dear Friend Dave Cox from The UK....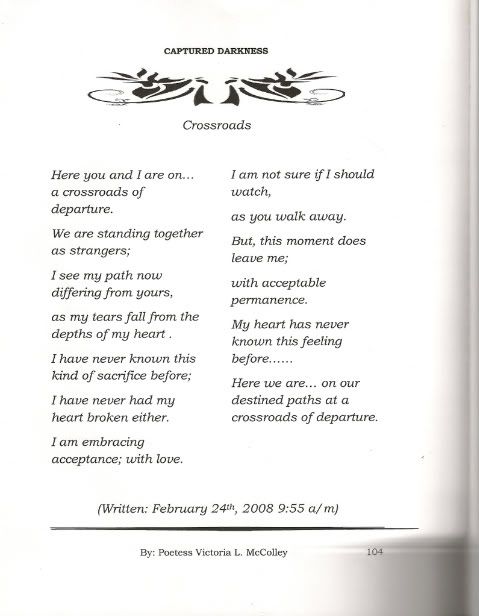 Crossroads is a poem on page 104 from my book "Captured Darkness"
Thank You Dave For This Wonderful Recite!!!
Thank You For Visiting...
Web Site: David Cox Creative Thinkers
Want to review or comment on this article?
Click here to login!
Need a FREE Reader Membership?
Click here for your Membership!
Reviewed by Robert Mellott
Very nicely woven fabric, rich in regret... ladened with the beauty of love departing...reminded me of something that tripped off my tongue... Shared below... interesting reading your work... Thanks for sharing... Bob


A Chance Meeting

A mischievous smile
And daring eyes
We met in the prime
Of our intricate lives

A gentle, touching caress
Inflamed our needs and desires
A complex, intrepid dance
Our hearts devised

Both afraid to surrender our hearts
Tripping on our past endeavors
We dared to love without restraint
Only to be caught in our own constraints

And so, we parted that night
With a hollow promise of future delight
Both living our lives apart
As we have, lonely, from the start

Regretting nothing for taking a chance
Our lives & souls truly enhanced.

rlm
08/21/08

Reviewed by Jon Willey
a contribution of tenderness, compassion and the finality of a relation's demise -- this is very beautiful work Vickie -- much love and peace to you my friend -- JMW
Reviewed by Georg Mateos
I hope that the voice was a bass one, speaking slow ans softly, because the poem deserve to be talked with tenderness.

Georg


Reviewed by A Serviceable Villain
Vickie~!

Two-thumbs up - you light up the Den with your starbursts of poetic excellence!!


Hugs,

Lance
Reviewed by J'nia Fowler
Beautifully penned and read. Blessings, J'nia
Reviewed by Gene Williamson
So well done, Victoria. Beautifully written, beautifully read.
-gene.