Blogs by Sage Sweetwater
My 640,000 Hit Today!
10/15/2008 10:34:12 AM [ Flag as Inappropriate ]

From the desk of Sage Sweetwater thanking you dear fans for continuing to support Sage Sweetwater Creative Properties and BlueSage Productions. Have a great fall season! A warm mug of hard cider to you! We love you all.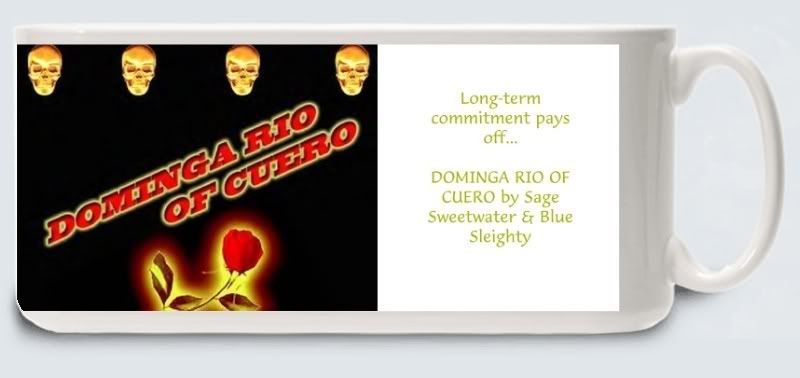 BlueSage Productions DOMINGA RIO OF CUERO mugs have arrived! Purchase yours today for some Holiday cheer! Kick in the fire of Sage Sweetwater & Blue Sleighty - don't be left clueless or skull-less! Blue and Sage actively motivated to bringing you a second lesbian novel now in production to be announced!

http://www.myspace.com/bluesageproductions

Comments (3)

More Blogs by Sage Sweetwater
• Psychology Recounts Biblical Story - Sunday, July 12, 2015
• Sweetwater Building Mustang Scene Her Endurance Relaxed Effort - Sunday, June 28, 2015
• Michael Martin Murphey Endorses Sage Sweetwater - Tuesday, May 12, 2015
• Rainier Distillers Endorses Sage Sweetwater - Tuesday, May 12, 2015
• Randy Miller Predators in Action Endorses Sage Sweetwater - Tuesday, May 12, 2015
• Universal Studios Hollywood Endorses Sage Sweetwater - Tuesday, May 12, 2015
• Fox In-Theatre Marketing Endorses Sage Sweetwater - Tuesday, May 12, 2015
• IMDb Endorses Sage Sweetwater - Tuesday, May 12, 2015
• Catch the Film Endorses Sage Sweetwater - Tuesday, May 12, 2015
• Bitch Media Endorses Sage Sweetwater - Tuesday, May 12, 2015
• Walt Disney Pictures Endorses Sage Sweetwater - Tuesday, May 12, 2015
• Siren Studios Endorses Sage Sweetwater - Tuesday, May 12, 2015
• Logo TV Endorses Sage Sweetwater - Tuesday, May 12, 2015
• Deadline Hollywood Endorses Sage Sweetwater - Tuesday, May 12, 2015
• Magnolia Pictures Endorses Sage Sweetwater - Tuesday, May 12, 2015
• Sony Pictures Endorses Sage Sweetwater - Tuesday, May 12, 2015
• Warner Brothers Entertainment Endorses Sage Sweetwater - Tuesday, May 12, 2015
• Nike (Women) Endorses Sage Sweetwater - Tuesday, May 12, 2015
• Ellen DeGeneres Endorses Sage Sweetwater - Tuesday, May 12, 2015
• Robin Roberts (Good Morning America Anchor) Endorses Sage Sweetwater - Tuesday, May 12, 2015
• Ryman Auditorium (Nashville) Endorses Sage Sweetwater - Tuesday, May 12, 2015
• Popcorn Sutton's Tennessee White Whiskey Endorses Sage Sweetwater - Tuesday, May 12, 2015
• Hank Williams Jr. (Bocephus) Endorses Sage Sweetwater - Tuesday, May 12, 2015
• Lady Gaga Endorses Sweetwater - Monday, May 11, 2015
• Dolby Theatre Endorses Sage Sweetwater - Monday, May 11, 2015
• The Academy Endorses Sage Sweetwater - Monday, May 11, 2015
• Robert Redford and Sundance Catalog Endorses Sage Sweetwater - Monday, May 11, 2015
• Nashville TV Show Endorses Sage Sweetwater - Monday, May 11, 2015
• Stolen Lullabies and Secret Impasses by Donna L Quesinberry - Monday, May 11, 2015
• Sweetwater Represented at Cannes International Film Festival 2015 - Monday, May 11, 2015
• Toyota USA Endorses Sweetwater - Monday, May 11, 2015
• Pier 1 Imports Endorses Sweetwater - Monday, May 11, 2015
• Sotheby's Endorses Sweetwater - Monday, May 11, 2015
• Hallmark Channel USA Endorses Sweetwater - Sunday, May 10, 2015
• IMAX Endorses Sweetwater - Sunday, May 10, 2015
• Greenpeace USA Endorses Sweetwater - Sunday, May 10, 2015
• Telluride Brewing Co. Endorses Sweetwater - Sunday, May 10, 2015
• Pawn Stars on History Endorse Sweetwater - Sunday, May 10, 2015
• CMT TV Network Endorses Sweetwater - Sunday, May 10, 2015
• Red Vines Endorses Sweetwater - Sunday, May 10, 2015
• Amazon Endorses Sweetwater - Sunday, May 10, 2015
• Charlie 1 Horse Hat Company Endorses Sweetwater - Sunday, May 10, 2015
• ICEE Endorses Sweetwater - Sunday, May 10, 2015
• Francis Ford Coppola Winery Endorses Sweetwater - Sunday, May 10, 2015
• Playboy Endorses Sweetwater - Saturday, May 09, 2015
• Country Outfitter Endorses Sweetwater - Saturday, May 09, 2015
• Sweetwater's From the Convent to the Rawhide Sees New Writer, New Story - Friday, May 08, 2015
• Armani Endorses Sweetwater - Friday, May 08, 2015
• Gucci Endorses Sweetwater - Friday, May 08, 2015
• Cadillac Endorses Sweetwater - Thursday, May 07, 2015
• Chevrolet Endorses Sweetwater - Thursday, May 07, 2015
• Beth Chapman Endorses Sweetwater - Thursday, May 07, 2015
• Celebrity Author Jackie Collins Endorses Sweetwater - Thursday, May 07, 2015
• Dior Endorses Sweetwater - Thursday, May 07, 2015
• Mary Kay Endorses Sweetwater - Thursday, May 07, 2015
• Prada Endorses Sweetwater - Thursday, May 07, 2015
• Saks Fifth Avenue Endorses Sweetwater - Thursday, May 07, 2015
• Macy's Endorses Sweetwater - Thursday, May 07, 2015
• Why Kevin Costner is Heavily Involved in Sweetwater Films - Thursday, May 07, 2015
• Wrangler Endorses Sweetwater - Thursday, May 07, 2015
• True West Magazine and Bob Boze Bell Endorse Sweetwater - Thursday, May 07, 2015
• Aston Martin (Beverly Hills) Endorses Sweetwater - Thursday, May 07, 2015
• Harley-Davidson Motor Company Endorses Sweetwater - Thursday, May 07, 2015
• Porsche (Beverly Hills Porsche) Endorses Sweetwater - Thursday, May 07, 2015
• Land Rover Endorses Sweetwater - Thursday, May 07, 2015
• Red Bull Endorses Sweetwater - Thursday, May 07, 2015
• Tabasco Endorses Sweetwater - Thursday, May 07, 2015
• Keystone Light Beer (Coors Brewing Company) Endorses Sweetwater - Thursday, May 07, 2015
• Old Spice Endorses Sweetwater - Thursday, May 07, 2015
• Why Levi Jeans is Endorsing Sweetwater - Wednesday, May 06, 2015
• Boycott the Orange Festival and Black Market Books - Wednesday, May 06, 2015
• Responding to Lesbian Blackmail and Citrus Scents - Wednesday, May 06, 2015
• Tar Babies Converted to Wallet Candy - Wednesday, May 06, 2015
• Checking In a Man That Is Checked Into Federal Prison - Wednesday, May 06, 2015
• Sweetwater's Celeb Scoop Daily - Saturday, May 02, 2015
• Sweetwater's Celeb Scoop Daily - Saturday, May 02, 2015
• Sweetwater's Celeb Scoop Daily - Saturday, May 02, 2015
• Sweetwater's Celeb Scoop Daily - Saturday, May 02, 2015
• Sweetwater's Celeb Scoop Daily - Saturday, May 02, 2015
• Sweetwater's Celeb Scoop Daily - Saturday, May 02, 2015
• Sweetwater's Celeb Scoop Daily - Saturday, May 02, 2015
• Sweetwater's Celeb Scoop Daily - Friday, May 01, 2015
• Sweetwater's Celeb Scoop Daily - Thursday, April 30, 2015
• Sweetwater's Celeb Scoop Daily - Wednesday, April 29, 2015
• Sweetwater's Celeb Scoop Daily - Tuesday, April 28, 2015
• Sweetwater's Celeb Scoop Daily - Tuesday, April 28, 2015
• Sweetwater's Celeb Scoop Daily - Monday, April 27, 2015
• Sweetwater's Celeb Scoop Daily - Sunday, April 26, 2015
• Sage Sweetwater Quotes - Saturday, April 25, 2015
• Sage Sweetwater Quotes - Saturday, April 25, 2015
• Sage Sweetwater Quotes - Saturday, April 25, 2015
• Sweetwater's Celeb Scoop Daily - Saturday, April 25, 2015
• Sweetwater's Celeb Scoop Daily - Saturday, April 25, 2015
• Sweetwater's Celeb Scoop Daily - Saturday, April 25, 2015
• Sweetwater's Celeb Scoop Daily - Friday, April 24, 2015
• Sweetwater's Celeb Scoop Daily - Friday, April 24, 2015
• Sweetwater's Celeb Scoop Daily - Friday, April 24, 2015
• Sweetwater's Celeb Scoop Daily - Friday, April 24, 2015
• Sweetwater's Celeb Scoop Daily - Friday, April 24, 2015
• Sweetwater's Celeb Scoop Daily - Thursday, April 23, 2015
• Sweetwater's Celeb Scoop Daily - Thursday, April 23, 2015
• Sweetwater's Celeb Scoop Daily - Thursday, April 23, 2015
• Sweetwater's Celeb Scoop Daily - Thursday, April 23, 2015
• Sweetwater's Celeb Scoop Daily - Thursday, April 23, 2015
• Sweetwater's Celeb Scoop Daily - Thursday, April 23, 2015
• Sweetwater's Celeb Scoop Daily - Wednesday, April 22, 2015
• Sweetwater's Celeb Scoop Daily - Wednesday, April 22, 2015
• Sweetwater's Celeb Scoop Daily - Wednesday, April 22, 2015
• Sweetwater's Celeb Scoop Daily - Tuesday, April 21, 2015
• Sweetwater's Celeb Scoop Daily - Tuesday, April 21, 2015
• Sweetwater's Celeb Scoop Daily - Tuesday, April 21, 2015
• Sweetwater's Celeb Scoop Daily - Tuesday, April 21, 2015
• Sweetwater's Celeb Scoop Daily - Monday, April 20, 2015
• Sweetwater's Celeb Scoop Daily - Monday, April 20, 2015
• Sweetwater's Celeb Scoop Daily - Sunday, April 19, 2015
• Sweetwater's Celeb Scoop Daily - Sunday, April 19, 2015
• Sweetwater's Celeb Scoop Daily - Sunday, April 19, 2015
• Sweetwater's Celeb Scoop Daily - Sunday, April 19, 2015
• Sage Sweetwater Quotes - Sunday, April 19, 2015
• Sage Sweetwater Quotes - Sunday, April 19, 2015
• Sage Sweetwater Quotes - Sunday, April 19, 2015
• Sage Sweetwater Quotes - Saturday, April 18, 2015
• Sage Sweetwater Quotes - Saturday, April 18, 2015
• Sage Sweetwater Quotes - Saturday, April 18, 2015
• Sage Sweetwater Quotes - Saturday, April 18, 2015
• Sage Sweetwater Quotes - Saturday, April 18, 2015
• Sage Sweetwater Quotes - Saturday, April 18, 2015
• Sage Sweetwater Quotes - Friday, April 17, 2015
• Sage Sweetwater Quotes - Friday, April 17, 2015
• Sage Sweetwater Quotes - Friday, April 17, 2015
• Sage Sweetwater Quotes - Friday, April 17, 2015
• Sage Sweetwater Quotes - Friday, April 17, 2015
• Sage Sweetwater Quotes - Friday, April 17, 2015
• Sage Sweetwater Quotes - Friday, April 17, 2015
• Sage Sweetwater Quotes - Friday, April 17, 2015
• Sage Sweetwater Quotes - Thursday, April 16, 2015
• Sage Sweetwater Quotes - Thursday, April 16, 2015
• Sage Sweetwater Quotes - Thursday, April 16, 2015
• Sage Sweetwater Quotes - Thursday, April 16, 2015
• Sage Sweetwater Quotes - Thursday, April 16, 2015
• Sage Sweetwater Quotes - Thursday, April 16, 2015
• Sage Sweetwater Quotes - Thursday, April 16, 2015
• Sage Sweetwater Quotes - Thursday, April 16, 2015
• Sage Sweetwater Quotes - Thursday, April 16, 2015
• Why Sweetwater Rules! - Wednesday, April 15, 2015
• Sage Sweetwater Quotes - Wednesday, April 15, 2015
• Sage Sweetwater Quotes - Tuesday, April 14, 2015
• Sage Sweetwater Quotes - Tuesday, April 14, 2015
• Sage Sweetwater Quotes - Tuesday, April 14, 2015
• Sage Sweetwater Quotes - Tuesday, April 14, 2015
• Sage Sweetwater Quotes - Tuesday, April 14, 2015
• Sage Sweetwater Quotes - Tuesday, April 14, 2015
• Sage Sweetwater Quotes - Tuesday, April 14, 2015
• Sage Sweetwater Quotes - Monday, April 13, 2015
• Sage Sweetwater Quotes - Monday, April 13, 2015
• Sage Sweetwater Quotes - Monday, April 13, 2015
• Sage Sweetwater Quotes - Monday, April 13, 2015
• Sage Sweetwater Quotes - Monday, April 13, 2015
• Sage Sweetwater Quotes - Sunday, April 12, 2015
• Sage Sweetwater Quotes - Sunday, April 12, 2015
• Sage Sweetwater Quotes - Sunday, April 12, 2015
• Sage Sweetwater Quotes - Sunday, April 12, 2015
• Sage Sweetwater Quotes - Sunday, April 12, 2015
• Sage Sweetwater Quotes - Saturday, April 11, 2015
• Sage Sweetwater Film Quotes - Saturday, April 11, 2015
• Sage Sweetwater Quotes - Saturday, April 11, 2015
• Sage Sweetwater Quotes - Saturday, April 11, 2015
• Sage Sweetwater Quotes - Saturday, April 11, 2015
• Sage Sweetwater Quotes - Saturday, April 11, 2015
• Sweetwater and The Sundance Wives - Friday, April 10, 2015
• Sweetwater and The Sundance Wives - Friday, April 10, 2015
• Sweetwater and The Sundance Wives - Friday, April 10, 2015
• Sweetwater's Film Quotes - Thursday, April 09, 2015
• Sweetwater's Film Quotes - Thursday, April 09, 2015
• Sweetwater's Film Quotes - Tuesday, April 07, 2015
• Sweetwater's Film Quotes - Tuesday, April 07, 2015
• Sweetwater's Film Quotes - Tuesday, April 07, 2015
• Sweetwater's Film Quotes - Tuesday, April 07, 2015
• Sweetwater's Film Quotes - Tuesday, April 07, 2015
• Sweetwater's Film Quotes - Tuesday, April 07, 2015
• Sweetwater's Film Quotes - Tuesday, April 07, 2015
• Sweetwater's Film Quotes - Tuesday, April 07, 2015
• Sweetwater's Film Quotes - Tuesday, April 07, 2015
• Sweetwater's Film Quotes - Tuesday, April 07, 2015
• Sweetwater's Film Quotes - Monday, April 06, 2015
• Sweetwater's Film Quotes - Monday, April 06, 2015
• Sweetwater's Film Quotes - Monday, April 06, 2015
• Army of God Christian Terrorist Groups - Sunday, April 05, 2015
• Sweetwater's Film Quotes - Sunday, April 05, 2015
• Sweetwater's Film Quotes - Sunday, April 05, 2015
• Sweetwater's Film Quotes - Sunday, April 05, 2015
• Sweetwater's Film Quotes - Sunday, April 05, 2015
• Sweetwater's Film Quotes - Sunday, April 05, 2015
• Sweetwater's Film Quotes - Sunday, April 05, 2015
• Sweetwater's Film Quotes - Sunday, April 05, 2015
• Sweetwater's Film Quotes - Sunday, April 05, 2015
• Sweetwater's Film Quotes - Sunday, April 05, 2015
• Sweetwater's Film Quotes - Sunday, April 05, 2015
• Sweetwater's Film Quotes - Sunday, April 05, 2015
• Sweetwater's Film Quotes - Sunday, April 05, 2015
• Yes - Sunday, April 05, 2015
• Yes - Sunday, April 05, 2015
• Yes - Sunday, April 05, 2015
• Yes - Sunday, April 05, 2015
• Sweetwater's Film Quotes - Saturday, April 04, 2015
• Sweetwater's Film Quotes - Saturday, April 04, 2015
• Sweetwater's Film Quotes - Saturday, April 04, 2015
• Sweetwater's Film Quotes - Saturday, April 04, 2015
• Sweetwater's Film Quotes - Saturday, April 04, 2015
• Sweetwater's Film Quotes - Saturday, April 04, 2015
• Sweetwater's Film Quotes - Saturday, April 04, 2015
• Sweetwater's Film Quotes - Saturday, April 04, 2015
• Sweetwater's Film Quotes - Saturday, April 04, 2015
• Sweetwater's Film Quotes - Saturday, April 04, 2015
• Sweetwater's Film Quotes - Saturday, April 04, 2015
• Sweetwater's Film Quotes - Saturday, April 04, 2015
• Sweetwater's Film Quotes - Saturday, April 04, 2015
• Sweetwater's Film Quotes - Saturday, April 04, 2015
• Sweetwater's Film Quotes - Saturday, April 04, 2015
• Sweetwater's Film Quotes - Saturday, April 04, 2015
• Sweetwater's Film Quotes - Friday, April 03, 2015
• Sweetwater's Film Quotes - Friday, April 03, 2015
• Sweetwater's Film Quotes - Friday, April 03, 2015
• Sweetwater's Film Quotes - Friday, April 03, 2015
• Sweetwater's Film Quotes - Friday, April 03, 2015
• Sweetwater's Film Quotes - Friday, April 03, 2015
• Sweetwater's Film Quotes - Friday, April 03, 2015
• Sweetwater's Film Quotes - Friday, April 03, 2015
• Sweetwater's Film Quotes - Friday, April 03, 2015
• Sweetwater's Film Quotes - Friday, April 03, 2015
• Sweetwater's Film Quotes - Friday, April 03, 2015
• Sweetwater's Film Quotes - Friday, April 03, 2015
• Sweetwater's Film Quotes - Friday, April 03, 2015
• Sweetwater's Film Quotes - Friday, April 03, 2015
• Sweetwater's Film Quotes - Friday, April 03, 2015
• Sweetwater's Film Quotes - Friday, April 03, 2015
• Sweetwater's Film Quotes - Friday, April 03, 2015
• Sweetwater's Film Quotes - Friday, April 03, 2015
• Sweetwater's Film Quotes - Friday, April 03, 2015
• Sweetwater's Film Quotes - Friday, April 03, 2015
• Sweetwater's Film Quotes - Friday, April 03, 2015
• Sweetwater's Film Quotes - Friday, April 03, 2015
• Sweetwater's Film Quotes - Friday, April 03, 2015
• Sweetwater's Film Quotes - Thursday, April 02, 2015
• Sweetwater's Film Quotes - Thursday, April 02, 2015
• Sweetwater's Film Quotes - Thursday, April 02, 2015
• Sweetwater's Film Quotes - Thursday, April 02, 2015
• Sweetwater's Film Quotes - Thursday, April 02, 2015
• Sweetwater's Film Quotes - Thursday, April 02, 2015
• Sweetwater's Film Quotes - Thursday, April 02, 2015
• Sweetwater's Film Quotes - Thursday, April 02, 2015
• Sweetwater's Film Quotes - Thursday, April 02, 2015
• Sweetwater's Film Quotes - Thursday, April 02, 2015
• Sweetwater's Film Quotes - Thursday, April 02, 2015
• Sweetwater's Film Quotes - Thursday, April 02, 2015
• Sweetwater's Poetry Hits - Sunday, March 01, 2015
• Fake Poetry: The Hoax Revealed - Friday, February 13, 2015
• Sweetwater's Film Soundtrack Going Vinyl! - Wednesday, February 04, 2015
• Sweetwater's Jett Durango Western TV Series - Wednesday, February 04, 2015
• The Power of Book to Film PostHumous - Sunday, February 01, 2015
• Sweetwater's RoadKill Heart Getting a Sequel - Saturday, January 31, 2015
• Michael Martin Murphey to Act Out a Films Scene based On Sweetwater's AD Story - Saturday, January 31, 2015
• Kris Kristofferson/Rita Coolidge Write a Song From Sweetwater's AD Poetry - Saturday, January 31, 2015
• Hollywood's George Clooney Gets Involved With Sage Sweetwater Films - Friday, January 30, 2015
• #Hashtagging Is #Polyamory a Choice and How to Care For Your Cast-Iron #Cookware - Wednesday, January 07, 2015
• The Path to Hardscrabble: Spiritual Awakening - Monday, January 05, 2015
• Cuban Cigar Fire - Wednesday, December 31, 2014
• Loco Motive CRASH craddock - Tuesday, December 30, 2014
• Bolshevik to SHADE PINK - Sunday, December 28, 2014
• Gray Dawn to Scarecrow - Saturday, December 27, 2014
• internet. - Wednesday, December 24, 2014
• Soupcan Label - Tuesday, December 23, 2014
• Santa Bagged Stardust Smuggled it Across the Border - Monday, December 22, 2014
• Briggs and Stratton On Call 0900 - Monday, December 22, 2014
• TENS Unit to Violet Wand - Sunday, December 21, 2014
• Bald Eagle Come In to the Drone - Saturday, December 20, 2014
• Messaging the Boss - Thursday, December 18, 2014
• Website Hackers and The Hollywood Conspiracy - Wednesday, December 17, 2014
• Bill Cosby Syndrome - Tuesday, December 09, 2014
• Lesbian Pulpit Agent and New-Age Prophet - Friday, December 05, 2014
• Wake Up and Smell the Wealth! - Thursday, December 04, 2014
• Pagan Wassail - Wednesday, November 26, 2014
• Rosary, Christmas Tinsel and Hard Cider - Friday, November 21, 2014
• Sweetwater's Sweat Equity - Wednesday, October 22, 2014
• Sweetwater's Star-Studded Cast Posted on FaceBook - Sunday, October 19, 2014
• Until 2017! - Wednesday, October 15, 2014
• The Prayer That Made it to Hollywood - Saturday, October 04, 2014
• Sweetwater's Alias a Good Samaritan Woman - Tuesday, September 30, 2014
• Jett Durango Pistols and the Powder River Jesus - Monday, September 29, 2014
• A Preacher That Goes to Brothers, Jugs and Weed - Sunday, September 28, 2014
• Amazing Grace For the Mennonites - Saturday, September 27, 2014
• Sweetwater's Mormon-based LDS Faith Western Film - Wednesday, September 24, 2014
• Blackberry's are Ripe! - Tuesday, September 23, 2014
• Sweetwater's Google profile now at 76,500+ views - Monday, September 15, 2014
• Fake Blood - Sunday, August 31, 2014
• Amish Craftsman Names Writing Desk in Sage Sweetwater's Honor - Friday, August 01, 2014
• Sweetwater's Google profile now at 21,000+ views. - Tuesday, July 29, 2014
• We've Got Work To Do! - Saturday, July 26, 2014
• Death of the Prophet's Thumbprint - Monday, July 14, 2014
• Feeling Paranoid with GPS Tracking? - Monday, July 07, 2014