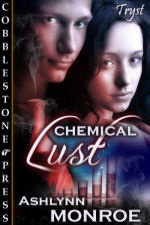 At KMN Books Blogspot: Interview with Ashlynn Monroe
Ashlynn Monroe, the author of paranormal romances and urban fantasies is here today to tell us about her upcoming release Chemical Lust!


Her heroine, Leah is a scientist, who has developed a chemical that stimulates sexual lust and it's been released into the air. Find out how her heroine and hero, Leah and Jericho handle the situation. What would you do if such a chemical was released or what wouldn't you do?


Come by and tell us– if you dare to share. (Please keep it PG 13– Enticing with just enough suspense is all we need to start the imagination. (lol ) If you don't want to share your fantasy, just come by and say hello or ask a question. Ashlynn would love to hear from you.
Please leave all comments at:

Hope to see you there!