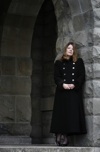 Sharon Ashwood is the author of paranormal romances with hot and passionate heroes and heroines that leap off the pages. They're tough, honorable and ready to take out the evil in the world.
Warning: Sharon's dark tales may have you checking under your bed for monsters. lol

Let's give Sharon a warm welcome.

***Contest:
Sharon will be giving away a book from the Dark Forgotten Series – reader's choice of which one (there are excerpts of all 3 on her web site). All you have to do is ask Sharon a question or leave a comment and you'll be entered to win! Good Luck!
Please leave all comments at: http://kmnbooks.blogspot.com/

Don't forget to leave your email so Sharon can contact you if you should win.