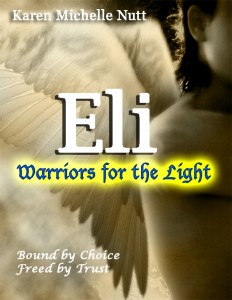 Eli: Warriors for the Light
Words: 37691 (approximate)
Print: $8.79 Ebook:$3.99
Heat range: sensual (two flames)
10-ISBN-1453699279
13 ISBN- 9781453699270
E-book Available at: Smashwords
Amazon Kindle
Barnes and Noble Nook
iTunes

Print
Amazon
Rebecca J. Vickery Publishing
Barnes and Noble
Eli Grigori is a Fallen Angel who will cede his life if he does not accomplish his mission. Eli wholeheartedly believes that he has found his soul mate in the form of human Ryden, and he is willing to risk everything to prove to his brethren that what they share is real. Even with his powers stripped, Eli is a formidable warrior and will not let anyone, angel or demon, hurt his love.
Ryden O'Sullivan has been admiring the writer, Eli, ever since the first time she waited on him but suddenly her crush seems larger than life, and she begins having deja vu. She may not know Eli well, but her heart knows him and now she just has to listen to it and trust him.
The Fallen Angels and their offspring live by many rules, four of which are the most important. Number one: Do not befriend a human. Number two: Do not interfere in their lives. Number three: Do not have relations with a human. And rule number four: Under no circumstances will you ever reveal your true self. Eli Grigori has violated them all by falling in love with Ryden O'Sullivan. Now he has one day for Ryden to fall in love with him or he will cease to exist, and her mind will be erased of any memories of him.
Karen Michelle Nutt introduces a fantastic new series with this story. Her characters are phenomenal, and I cannot wait to read the next offering. The fact that this is the premier could have meant a lot of boring back-story but this jumps right into the action while still filling in the framework. The descriptions are detailed without being overly flowery and the tone is arresting. I am looking forward to delving into the lives of the other Fallen Angels as I already feel I am invested in what becomes of all of them. The fact that the bad boy's story is up next is a unique move. The sensual and romantic atmosphere is skillfully woven throughout the tale. I appreciated the glossary, which was included but would have preferred it be at the end as it bogged down the beginning, and I honestly did not want to start reading. But, I am glad I pushed on because I highly enjoyed this story. This is rated PG-13 but I am not sure that I would want my young adult reading this as the sexuality is very strong which, as an older reader, I greatly enjoyed.
Venus
Reviewer for Coffee Time Romance & More