American Portrait Series On Exhibit at Columbia University's Russ Berrie
Wednesday, January 30, 2008 8:57:00 PM
---
Arts/Entertainment
Misha McGlown''s American Portrait Series on exhibit from February 1, 2008 - March 7, 2008 @ Columbia University''s Russ Berrie Medical Science Pavillion - 1150 St. Nicholas @ 168th Street, New York, NY. This exhibit is presented by Columbia University''s Office of Government and Community Affairs.


Artist Statement:

American Portrait Series includes works in progress from two different collections: Projects Under Construction and The Melody Still Lingers On. Each collection captures a facet of American history, highlighting artists, musicians, and activists – known and unknown - who have impacted a particular political or creative arena, or American culture at large. Subjects in Projects Under Construction may have been embarking upon profound change, or may have started or been in the middle of great progress on behalf of humanity, while The Melody Still Lingers On captures jazz artists and entertainers who have contributed to the collective development of melody and song.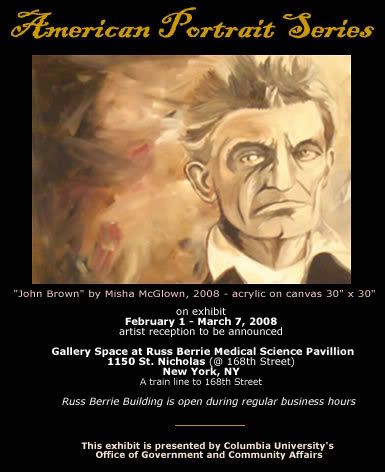 Projects Under Construction


This growing study highlights the lives of a number of activists, artists, and civilians; all of whom pioneered, or were in the midst of, life-changing work. John Brown, deemed a lunatic at the time, sacrificed his life for the abolition of slavery; Malcolm X, Princess Diana, and Jimi Hendrix were all on the brink of transformation, with their greatest work, perhaps, yet to come. Florence Ballard breathed life into The Supremes, yet never fully experienced the movement in music she helped to initiate. Some subjects in this collection lost their lives in connection – directly or indirectly – with their political and/or creative ideas. Others, like many ordinary individuals, simply did not see the completion of the work they had begun. With many more subjects to come, this compilation is still under development.


The Melody Still Lingers On


The message and sentiment of this body of work was inspired by lyrics set to Night in Tunisia – a jazz standard written by Dizzy Gillespie in 1942. The study celebrates musicians and musical entertainers, famous and undiscovered, who contribute to the collective energy of jazz, resonating the world throughout. My underlying thinking is that this music is constantly playing, silently or audibly, in the hearts and minds of jazz lovers and players alike.

    
www.OmoMishaGallery.com
---