Sacred Are Every Messenger...
Hello My Lovlies: there are so many of you...surely God sent you to visit me, so that I may delight my heart upon the glorious whistlings of your bird songs...
just the sight of you warms me from winter's icy kisses
your visits carry me into such tranquility & harmony that I feel one within the infinitude of this universe...
You are my wintry sanctuary...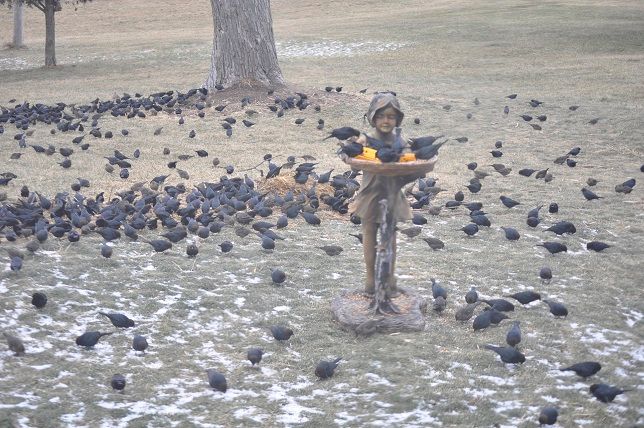 Web Site: Poetry Blog

Want to review or comment on this short story?
Click here to login!

Need a FREE Reader Membership?
Click here for your Membership!


Reviewed by Barbara Terry
10/17/2013
I was really in tune with this. This piece makes the heart warm, and the mind tranquil. If we stop, look and especially listen, then we can enjoy the world around us so much better, because there is a lot to enjoy.

God bless,
Brbara
Reviewed by TONY NERONE
2/9/2013
I enjoyed this writing very much, Vickie. How do Birds stay warm? A question for the ages. I notice as great as your writing was before it is even more clear now. As I have said before, YOU are so very talented...........GOD BLESS YOU and YOURS.........LOVE Tony
Reviewed by John Domino
2/2/2013
Dear Victoria,

You have captured the sounds of Heavenly birds and knitted their singing around your precious poetry. The Lord has blessed you and you delight in the Lord. Therefore, you can bless others like NO other.
I am so happy to be able to share a slice of this wonderful life with Jesus Christ you now and then.

Thank you for being you! Amen

May you have abundant love and blessings flowing like a thousand love birds throughout your journey in life.

John Michael


Reviewed by Jane Noponen Perinacci
2/2/2013
How fun! I really enjoyed this. Thank you!

Love ya!

Jane
Reviewed by Paul Berube
2/1/2013
Great write, Victoria! Love the pictures, too. You are blessed by our Lord.
Reviewed by Jerry Bolton
2/1/2013
Well, this is quite different. I don't much like it when people put music to read their poetry by, but the sound of these birds a soothing and wonderful. I am impressed at this posting . . . Oh! I see it is supposed to be a short story . . . All the better!
Reviewed by Bernice Lakota
2/1/2013
Wao, this is beautiful and you captured them so well, I wonder what they were singing about?
Could you survive twenty-two years alone... while living in the forests, hunting and consuming wild game and surviving the harsh elements? See how he did it; Read "Running Scared"...
BookAds by Silver, Gold and Platinum Members