…last we read from the "Season of the Doe" the gypsy grave digger
and an unidentified character proclaimed as "I"(author mischievously grins)
were in the birch woods. Circling overhead them was a spiritual messenger
a Black Raven. The two women are about to experience "Rutting Begins"
To read "Season of the Doe" a wonderfully channeled inspiration from
Our Literary Renowned Celebrity Lesbian Novelist Firebrand Sage Sweetwater click here:
Season of the Doe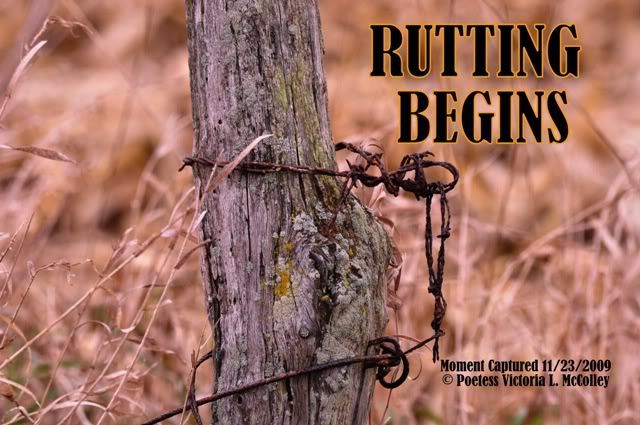 Rutting Begins
As the raven circled overhead
I had a vision of the druidess bard;
Her and I met under the hickory grove.
She had given me some stash seeds
back in the months of the corn moons.
She bound them inside a small satchel;
Chanted a blessing of love's opulence…
…said to keep them close to my heart
…said prosperity was inside the soul
she is a prophesier from willow slough…
Empirical reasons were always nearby;
They never went too far from my thoughts.
I am a freelance opportunist as it is anyway…
Belief is all mine wandering the hills or valleys;
I listen to the crows call from the tree tops…
Feeling the mounds of discovering summits;
I inhale the sumptuousness of rich fields;
Beauty is meant to be touched, and explored.
My heart has an innate need to plant and sow;
and this creation of beauty before me
is going to know cultivations of rustic passion.
Upturning arrow heads is my specialty…
Seeing into every moment as prospect;
Waiting to be another claimed pasture;
Belonging to cultivate sensual emotions;
I always stake my claim.
How was I not to own her?
Her overwhelming offering so irrefutable!
Her thighs harnessed upon my hips…
…as she looks at the raven circling closer,
I lay her down and reached for the flask.
The grassy knoll never felt so soft,
away from the barbed wire fence post…
Opening the gold decanter lid;
Straddling her curvaceous hungers;
I tasted the corn silk whiskey inside.
I poured some onto her exposing breast.
Unveiling the rest of herself to me;
She said the fire was burning within…
Never wasting a drop of whiskey;
I savored every inch poured …tasting her arousals.
She held onto my amethyst jeweled belt buckle.
The calls of the raven echoed through limbs.
The branches budding their fertile blooms opened…
Like magic we smelled the essence of our season…
Her hips grinding to feel more;
Her chiffon torn from her body like
a river's rushing current …we submersed…
Primal urgencies overtook our naked bodies.
I mounted her with raw intense passion…
My lips sucking to know the secret potions;
She quivers like aspen leaves all spread…
Red tail hawks searching fields for prey;
The wind caressing our exploring passions…
I consumed upon her gentle succulent femininity;
Thunder was discovering our fevered flesh.
Her pleasure another satiate bloom opening,
to the season of the doe…
Tapir hooves engaging…rutting…
Upturning the fertile earth we unearthed ourselves…
A floret plucked from this path we declare as our own.
Wet with salacious purity;
Her lips like petals are soft and fragrantly swelling;
Her thighs tremble to her shoulders…
Arching backwards, uplifting her hips;
She echoes to the raven her euphoria;
Releasing herself completely to me…
The glorious sound of her soul sings…
Sparrows escape the tree tops…
Her fingers digging into my flesh;
Pulling my hair with unharnessed intentions;
I take her to heights of newfound freedoms…
Claiming her;
Owning her;
Pleasing her;
Liberating her…
It is her season to know these earthen flavors.
Planting myself with her in these birch woods;
Memories now carved forevermore…
Calling to the raven our emotional ecstasy;
We intertwine our naked caressive bodies;
Soothed upon the touch of passion's surge…
We heard the coyotes yapping over briar ridge.
They were yipping in sequence a glorious rival.
Then suddenly branches nearby cracking…
We looked over to the hedge brush;
We seen a clump head buck staring us down…
She smiles with the eyes of satisfaction…
The clump head buck merely grazing as he watches.
She said the hackeyed man may be nearby,
he had been trailing that spiritual buck…
She then lifted the beautiful flask;
Admiring its delicate gold inlay…
…as we drank the rest of the corn silk whiskey, she said:
"I stole this decanter from him….that hackeyed man;
He came to the graveyard inside Lake Prairie
the eve of the growing moon."
"I am the one they call the gypsy grave digger."
"He wanted to share some of his moonshine…"
"He must have thought I was an inexperienced derelict;
He tried to spoon my thoughts to kneel in drunkenness
before his thieving steed.
Little did he know I am a weaving joatamon …"
She laughed under her breath...then said:
"I had just bought some fresh ground black powder;
The finest serpentine around,
and a new muskit nipple wrench from the county store;
Up front near crawfish ravine."
She told me when he forced her to her knees
opening his copper flank zipper head;
She pulled the muskit wrench from her hip sling;
Using it to fend herself for the upper hand.
Short changing his jewels took his breath away…
She threw the black gunpowder into his face.
When he grabbed for his eyes
she lit a wooden match for his revelations.
The spathe with the porcelain flask then fell
out of his pocket, and into the grave she dug earlier.
…as the flames cleared she grabbed her jute braid rope;
While hog tying him down, she seen the mortician approaching…
"You're one lucky s.o.b…"
She released him with a warning to never cross her path again…
(Written: November 28th, 2009 9:32 a/m)