It was suggest that I try my pen at a fictional story matter, so here is my efforts at trying to develope a story topic, and a couple characters....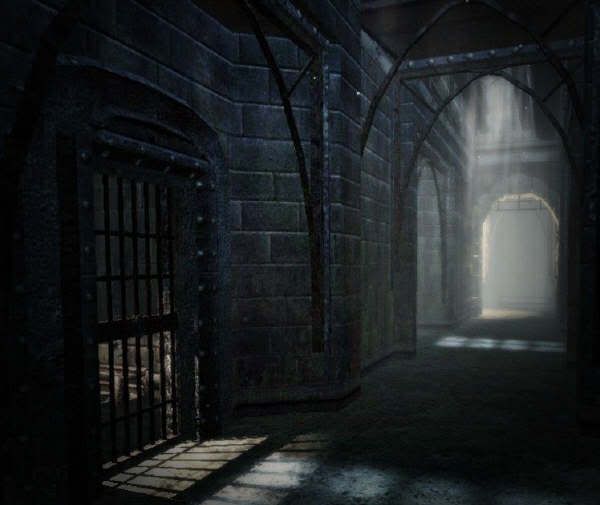 http://www.lotrplaza.com/forum/support/85897/dungeon.jpg
The Protective Gates Man
I woke from a deep seeded nightmare to find myself before the stairwell of infinite mystery. Curiosity caught my eye as I stepped down each annularly molded stair step; which looked like an aberration of disturbed emotions. I was careful while moving cob webs out of my way, since every movement triggered an ominous overshadowing of emotional dejections. There was a distinct sound of fathoming square pianos' stroking staccato notes in the distance, like the hands of midnight upon an old grandfather clock. I then had seen a dimly lit room at the foot of the staircases threshold. There was a heraldic saddle made of exquisite historic leathers, draped with velvet emerald ropes. The saddle was strapped high upon a stone of destiny. The stirrups were boldly brazen with arrogance, as I seen they were embossing alloyed silver studs, polished with arsenic to shine an undeniable question of poison. There was also 6 scabbard sheaths dressed with saber tooth tiger pelts. My mind was intrigued to know more as I wandered within the portentous shrouds of this dungeons room.
Along the entrance of the walls were chrome plates tracking an eclipse of centurial moons. These chrome plates, or frames were also on the moss creviced mortared walls behind the stone of destiny. This somehow seemed out of place to me. These plated frames were a glorified accomplishment of illusory souls being held captive inside its own reflections. I felt like I was looking at hidden memories. I felt trapped inside the wonderments of intrigue, yet leery of the deluded meanings.
The notice on the doorway was a bold inscription which said, "The devil rides alone." The sign was all discolored in haunting crimson hues with the cockled web of a black widows curse, dangling the temerity of temptations. I then had seen the whip of injustice leaning inward beckoning like a type of defiance to be whelping cursedly onto the frail skin of shame. This whip was also braided with black strapping Italian leather. As I approached the whip, I heard the chambers of sorrow echo from the depths of darkness. The chains of misery defiled their wail of grief stricken passage onto the apparent vaults of anguish throughout the torch lit hallways. There were abductive shadows foraged inside the darkness; scurrying about like the seizure of iniquity being raped by deceptions mask.
An eerie breadth gently touched my shoulders, like frozen ice cycles piercing my heart, while cold afflictions were kissing the back of my neck with impassive emotions. I felt like I was being beckoned with veiled needs by some desolate phantom. As I turned to see what it is that I could only feel, I then had seen another doorway leading into yet another stairwell. Down more stairs I traveled, deep into an unconscious existence of a seemingly forgotten life; dwelling within the bode of ill-omened rooms. After I stepped off the last stair, I walked over to someone standing like a medieval statue. I seen this person was an armored gates man; all of 10 feet tall. He was standing with a book in his locking gauntlet made of iron. I seen this was the book of truth. He stood there holding the book of truth while he also held the shields of loyalty in his other hand empowered by his gauntlet of iron. I had never seen anyone so tall. He was covered with my birthstones; blue sapphires. These gemstones glimmered as the fire torches flickered along the stone walls. I seen tarnished bronze on his suit of armor. He was in perfect condition. He looked like a magnificent knight somehow. He appeared to never have gone to battle. I could tell he had been here for a very long time, as he also was covered in cob webs, encroached by the silk of spiders scurriing along his armor plated shoulders up to his gorget of mottled bronze. I stood there looking at him for a few disconcerting moments. I absorbed my own emotions. I felt determined to read the book of truth. I felt no embodiments of fear. So with intrepid resolve, I then decided to try prying the book of truth from his mighty grip. He then leaned down to look me square in the face; his armor strummed deep tones sounding like vile chords of malice. I peered into his mask of malevolence as he asked me in a commanding deep distressing voice "What are you doing?"
Without the reverence of intimidation, I told him I would like to see inside the book of truth. He told me I wasn't allowed.
He said, "It is forbidden!"
I asked him, "Forbidden? What do you mean forbidden?"
He said he was given a solemn oath to honor, and guard the safe keeping of the book. He then leaned further into me and whispered hauntingly, "I was summoned to protect the book of truth from you. This book of truth belongs to the creator of memories, this book belongs to your past. It is best that you do not see inside. Take this warning with you in confidence."
I told him that he made no sense. He sordidly told me, "I command you! Go back to the stairwell of mystery. You do not belong here in these buried chambers of emotional darkness. You cannot summon the wretchedness of iniquity. You are deemed forbidden to see inside the book of truth."
As I stood there listening to his gothic perils of grueling rules, I noticed he was standing in front of an iron wrought door. It looked like something from the dungeons of a torture chamber. I asked him to move so I could open the door. A rapscallion rat the size of a big dog started to hiss at me while dangling skeleton keys 3 feet over my head. I asked the gates man to get the keys, and open the door.
I then said to the gates man, "If you are summoned to protect me, then you must serve me as I am the mastering mistress of orders."
All of a sudden murky waters started to flush into the hallways. Stagnatory bile pried excrement's of disgust. Scavengers of darkness rose from what seemed like the pits of hell. The gates man scolded me with his powerful voice like treasons upon the heart.
"Why do you not fear me?" he exclaimed. "You should fear the trepidations of my terror; the rage of my degradations! Fear the constrains of my powers!"
The force of his scouring nearly knocked me down into the now kneeling depths of his angers wrath. Swallowing up every stone of trespass beneath me, I then heard glass shattering in adjacent tombs. The stone walls began to shake refutably.
"Go Now!" He shouted. "Before it is to late!"
I took a flaming torch from the trembling wall & I banished it by his breastplate. I was able to see inside his sallet, the helmet of his imprisoned persecution. He was an empty mask, like a smoke filled room, he was dissipated inside his suit of armor. He calmed down as I flagged the torch all surmounting into his face plate once more.
"I am protecting you from entering, and I will not allow you through. I cannot allow you to read, or see."
He shouted at me as he raised his iron cuffed gauntlet, "The book of truth is forbidden, You may not enter the memories of the forbidden chambers. These squalid gallows are of revulsion, they are the drudgery of dreadful horrors; you cannot enter."
I asked him, "Why do you protect me from all these things that I wish to see? Why am I protected from the book of truth, and this locked room? What is being hidden..."
(To be Continued…maybe...)
(This was dreamed up on January 23rd, 2009 12:52 p/m)
In Joy, In Peace, In Grace, In Harmony of Love
Embraced ~ Embrassé
poétesse d'amour ~ poétesse romantique
Copyright© 2009 Poetess Victoria L. McColley