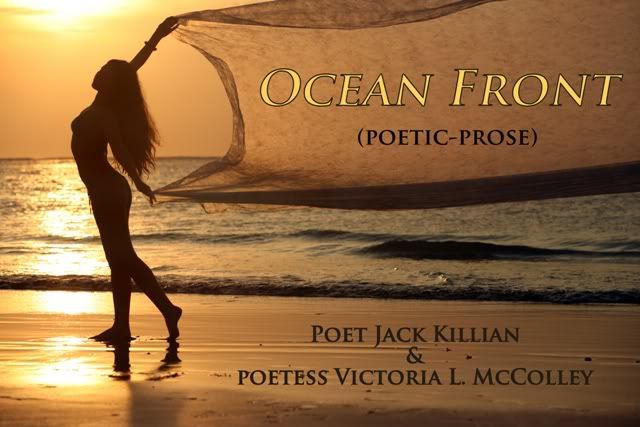 Photography Artist: Morozova Tatiana
http://www.dreamstime.com/Friday_info
Within the poetic privileges of collaborative creativities;
I am blessed to work with a very talented poet-
Introducing to you Jack Killian:
the setting
Situated on an idyllic ocean front, we see a wooden boardwalk and a string of beautifully rustic white cottages. The eatery, a block away, is always busy and the sounds of laughter, acoustic guitar, and flute drift lightly. The air is balmy and salty sweet and the sound of waves, crashing in the distance, adds to the fairness of the atmosphere. He and she both live along the boardwalk and are well acquainted. She is a writer, lithe, restrained, and aware of the nuances of her sexuality. Her hair is long and flowing and her features are pleasing and softly chiseled. He is tall, unassuming, makes his living as a sculptor, and has a smile that people are drawn to. He walks alone at dusk everyday and purposely passes her cottage. He knows that she watches the sunset alone every evening on her wooden deck. She smiles and waves whenever he walks by and, being congenial and hopelessly attracted, they always take time to share together and laugh. He knows of her penchant for being alone so he has never intruded on her privacy. Tonight something unexpected happens.
Jack Killian
~~~~~~~~~~~~~~~~~~~~~~~~~~~~~~~~~~~~~~~~~~~~~
Ocean Front (poetic-prose)
Confection 1
Les Aveux d'Intimité (confessions of intimacy)
"Would you like to join me?" She cooed softly.
I had always wanted her,
And each time I passed in the evening,
My heart quickened with the expectancy
Of being near, of touching her purest essence,
Of melding with the scent of her deepest hunger-
Tonight, I drank her in as an elixir.
She was a vision of loveliness,
A jeweled goblet from above, and as
The setting sun caressed her form in soft
Crimson hues, I answered pensively:
"I would love to."
She was a flawless vision…
Wearing delicate heels, her toes
Were exposed jewels with cranberry nails.
The dress clung to her loosely and the delights
Of her form seemed as chalk lines sketched
Delicately against the flittering candlelight.
She was gorgeously endowed and, when
She bent down to pour the wine, my
Breath was taken from me
~
His was a soothing voice;
So deeply chiseled his masculine presence;
My desires wandered intimately across
His body just as they had from the
Moment I first set eyes on him…
…He was walking on a cold crisp evening…
Friendly and confident in his earthy toned flannel;
His chest hair exposed a warming softness as
The freshness of waves moved across the ocean
Chilling the air with exotic scents of March
…He was unaware of the effect he had on me …
Moving across my prowess like a temple of passion
He claimed my secret thoughts …entering into me,
Exposing my hungers unfulfilled;
This soaring need to be one with…him;
To reveal every intimate thought of pleasures bidding;
Wanting to know the sculpt of his masculinity with my hands;
My lips…
My body…
My heart…
I leaned in without hesitations
To finish pouring his glass of wine.
…Sliding one crystal goblet towards his fingertips…
I whet the hunger of my lips with hidden anticipations;
Placing my hand on the center of his sculpted back;
Gently sampling his broad shoulders
With the firm brush of my revealing breast;
Allowing my body to be undressed
By his attentions;
…I pressed my lips to his…
~
The scent of her cast off my inhibitions,
And when my hands found her firm breasts
And cupped her tips, now hard with desire,
Passions floodgates opened within us.
She was intoxicating.
Suddenly pulling her hair behind
She sat down and moved the chair close.
Dress up mid-thigh she crossed her legs enticingly-
"Do you like the color?" She whispered pointing down.
I was speechless
Enthralled and rapt
As she dangled her heel
So enticingly, so dangerously;
I felt as if I was struggling on a tightrope,
Balanced between the desire building in me
And the fear of losing the magic of her nearness.
When one heel fell suddenly to the floor
I was stricken in my heart and dropped
To my knees, she was a goddess,
And I would adore her…
Her expression changed
As I knelt before her;
I felt our spirits merging.
Full lips parted sensuously and
Her breasts began heaving slightly;
Arching back her dress slipped down
To reveal deep tendering cleavage.
Sighing softly
She placed her toes on my lips
~
Gently he suckled my toes like treasures
With lips of insisting presence;
Our eyes locked in lover's possession,
He whispered:
"Yes…I love the color…
They are so very beautiful."
Hearing his sating moans of pleasure
I realized I was no longer the seductress…
I knew - like a lord of guardian spirits moving across
My body of arousals, gracing exaltations of love's divine purity -
He was going to conquer me with his seducements of passion.
I felt my heart succumbing within the sultry elements of him;
My soul purified by his masterful touch;
Polishing intimate spaces of love
With purity of adornments;
Discovering me like a rare calypso orchid . . .
Photography Art Location:
www.janubaba.com/wallpapers/images/wp_Janubab...
CONFECTION 2
Intimes Les Desserts (intimate desserts)
The sun had melted below the horizon,
And flickering candlelight was painting her body
In a wash of pastel shadows. Softly, as my hands
Move along her velvet skin, I sense the
Breathe of Cytherea enveloping us.
A banquet
Is spread before me
And the fragrance of her
Sweeps over my senses as elfin waves.
In dancing candlelight,
As I dine on cranberry toes,
My fingers discover the folds of her
And I caress an aching moist flower.
Mesmerized, I watch as sweet nectar
Trickles down along her soft inner thigh;
Committing to me loves treasure,
Her legs fall open wide
And I respond…
~
…Seeing him kneeling before me…
Further invigorating my erotic senses,
My emotions submerge into the jade of his hazel eyes;
Alluring me with seductions only Adonis could know.
I feel as a rare jewel in his probing fingers,
A Cytherean Goddess;
A priceless orb of mysteries
Amidst the evocative tides of nightfall…
Around us the scented candles
Emitting hints of sandalwood,
Lit shadows of intimacy
Dancing across his brawn body
Like waves caressing the shoreline;
I no longer felt alone here at the boardwalk...
…I radiate into his sensual magic…
Encompassing my treasure within his
Provocative masculinity,
I feel owned as he devours my toes.
Rubbing his knowing fingers along me
With gingering tenderness;
Commanding to me his manly implore
Caressive along the length of my curvaceous body;
Reaching for my hips;
Pulling me to him with intimate savoring urgency…
~
…Firmly I enter into her garden…
Fingers wet with nectars redolence,
They probe deeply, exploring the soft walls
Of her and pulling at her sensitive lips.
Hunger consumes me and, as a bolt
Of lightning striking down, I fall
Upon her as a bird of prey.
Covetously my tongue savors her,
And my lips pull at her tender blossom.
My hunger is insatiable and,
As I devour her,
…She erupts for the first time…
Shuddering, as sweet juice flows,
She pulls at her hardened nipples
To stretch them
~
The gods of love have
Reached from the heavens of Eros,
Calling his name to the kingdom of the universe,
My pleasures erupt!
…I am taken…
Escaping into his essence
He devours the wet heat of my flowing
Honey lathering my body with his breath saying:
"You are so very beautiful…"
Sliding my hands to meet his,
My hips swaying to his erotic controls,
My voice whispers within our sensual fires:
"You will be mine again and again…."
~
…Her words consume me…
And I am swelling larger
Than I have ever been,
The burning,
The throbbing,
The expectation
Of her sumptuous lips,
Her hands stroking me,
Her nails like a wild animal,
But her delectation drives me
Back to a moist soma caught in
The flames of passions yearnings…
Gently I spread her trembling legs and
Descend to drink loves sweet nectars
~
Again he spreads me
Open like a glorious dream,
Conquering my ravenous thighs,
Empowering thunderous demands;
He devours me as a succulent feast of enticements.
Claiming me within his passions irresistible command,
I succumb to his erotic aggressions…willingly...
I belong to him…
Uncontrollably surmounting to euphoric climaxes;
Holding his hand to my mouth I taste myself
Upon his fingers
~
…I am engorged now and ache…
Again and again she shudders as a rage
Of rhapsodic fire ripples across her smooth skin;
Her boundless flow of ambrosia satiates my thirst
As I devour the swollen folds of her suppleness-
I am a man possessed with her fragrance
And the bouquet of her is intoxicating.
She is mine, and soon her mouth
Will purify my abiding and her
Hands will release a flood …
~
Watching him tasting the swelter of my arousals;
Again savoring my hidden pearl with his sating lips,
Our eyes lock together speaking a language of love.
…I am immersed within his sensual tensions…
Wanting to feel the piercing measures of him;
My hips thrusting hungrily to his rhythmic sonnets;
Tasting the essence of the fire of his longing;
He is so much more than I had imagined…
My eyes close as
I reach for Venus,
Having never been devoured
With such luxuriant adoration before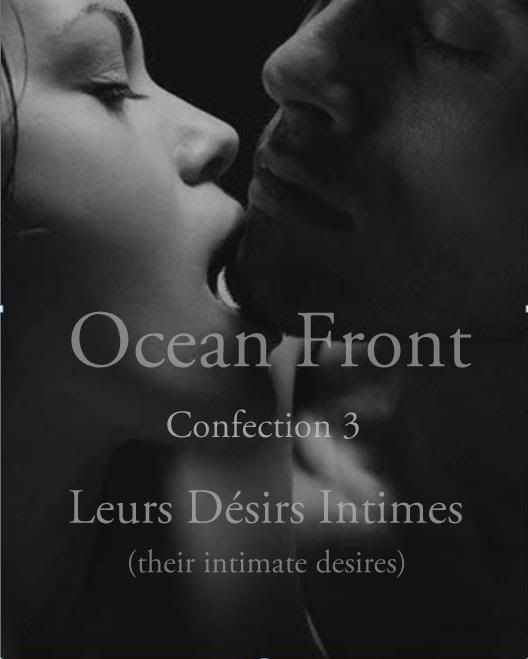 Confection 3
Leurs Désirs Intimes (their intimate desires)
I rise from my feast
Throbbing with heat.
Filled with the nectars of her;
My face moist from her succuses;
I know that she is spent from the many
Rippling outbreaks that claimed her.
Legs spread, I see
Her sated garden open and the petals
Of her swollen lips unfolded as a rose.
She is glistening with satisfaction and I
See her nipples, full in glorious dimension,
Waiting to be loved and stretched.
With parted wet lips she
Reaches up to take me…
~
Towering over my body
Like a precious shield of armor, I know
Sweet destiny has placed me in the arming hands
Of a maestro blessed with passionate expression.
His contours are present like Dionysus Gods,
Pouring Elysian mysteries into my heart, beckoned by
Apollo speaking to the rising suns of my soul, he reaches
With me to grasp the harness of my hands upon him
~
I am on fire,
And I must have her.
Both hands extend me,
She the Cytherean Goddess
Enslaving me to her needs,
Her hard elongated jewels now
Pressing firmly against my thighs;
Pushing me like a tower upwards
To stand over her vivacious eyes;
Wanting me above her without question
I am blinded by animal passions as
She kneels in front of me tasting;
Her succulent lips controlling my attention…
Looking into her claiming eyes I hear her whisper:
"Now you will be mine…"
Her words burn into the essence of me,
My longing surmounted by her passions,
Swelling me to her fertile caverns of possessions,
She explodes me inside her heated demanding kiss.
Swallowing deeply my steed of erupting passions;
My virility of pearls explores the velvets of her commands …
Gasping intensely
I fall to my knees
Ravished;
Once again,
She owns me….
…and perdures of their continued romance shall remain conjoining-
Into this…the abiding continuums of the Ocean Front…
These Poetic Confections by:
Poet Jack Killian
&
Romantic Poetess Victoria L. McColley
Written: August 2009 Copyright©
In Joy, In Peace, In Grace, In Harmony of Love
Embraced ~ Embrassé