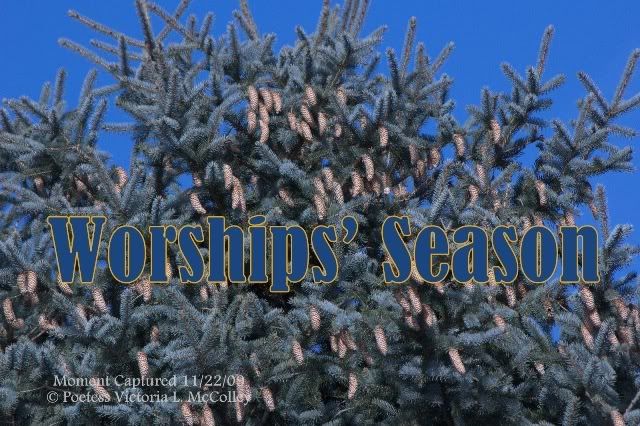 Worships' Season
We walk with hope into aromatic evergreens;
…Pinoideae forest plush with winter's icy chill.
White rain is frozen upon Yule's branches.
Prisms sun reflect beatitude's glorious star.
Selecting coniferous Firs; Junipers; Spruce;
Needles timbers limbs;
…for twining holly berry to wreaths.
Monoecious pine cones are erect copiousness;
Bearing essence to place into fireside's hearth;
Supplement's offering the adorning home;
Receiving love's gift…
Pagan arises councils from temples archaic word;
Druidical bards etch visits beneath warming fortitude;
Christians celebrate the holy birth of the new born king;
Monks reside their sanctions of seclusions,
within their remote solitudes…
Hailed upon the global diversities of any descrying religion;
We all are born from the innate foundations of united love;
Preparing our homes through season's ecliptic solstice;
Celebrating our cornucopia harvest of life's plentitudes…
Fertile soils cultivated will slumber under wintertide's rest;
And the bounties of our harvest we will share with acceptance.
Celebrating life with candles lighting all paths from darkness;
Embracing our souls with the promises of eternal love's wealth;
We can embellish our hearts with the timeless presence of peace,
for we all know within the richness of our soul,
the meaning of worships' season began with love…
(Written: December 18th, 2009 11:55 a/m)
In Joy, In Peace, In Grace, In Harmony of Love
Embraced ~ Embrassé
poétesse d'amour ~ poétesse romantique
Copyright© 2009 Poetess Victoria L. McColley