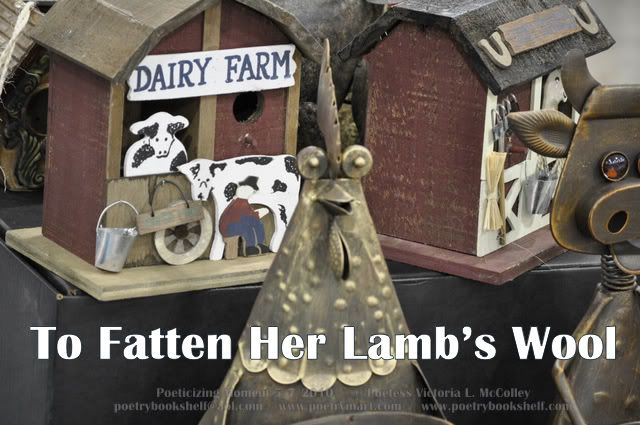 To Fatten Her Lamb's Wool
Fernanda Fleur!!
Can you hear your dreamers?
…singing from utopian lotus.
Or have you forgotten your aspirant marrows,
looking inside your whoredoms hope chest beset.
Expectations filled to brims ignoble edge;
revelations of certitude revealed theorems truth
these gospel eyes of your holy religion
cursed before condemnations passed…
Hammering metal cow tins,
while building barnyards for fences flock.
Corralling her loves dream to prosperities life;
She hen pecks inside her hope chest sealed-
…with these promises she keeps to herself.
Linens cloths folded neatly
…with fishnets easy access
to continue to fatten her lamb's wool…
(Written: May 15th, 2010 4:28 p/m)
In Joy, In Peace, In Grace, In Harmony of Love
Love's Bounty Embracing Unisons of Truth
"To Fatten Her Lamb's Wool"
Copyright© 2010 Authoress|Poetess Victoria L. McColley