---

Category:

Fantasy

Publisher:
BeBs Publishing
Type:
Pages:

88

Copyright:
2004


Fiction
---
Beb's Cajun Doll House
Etsy
In the Land of Sha Bebe


The Land of Sha Bebe is an enchanted land where rag dolls Jolie and Beau are "born" in the sugarcane fields of Louisiana by Madame Plume.

It's a Magical Land

Through the sugarcane fields of Louisiana we are taken on an enchanting journey into a world of rag dolls living in a magical land! Jolie and Beau show Emily that our lives are constantly changing and that death is a natural process of life. Most importantly, they teach her that there is beauty and magic in life if only we believe.
Is the legend of the Sha Bebe true?
Do YOU believe? In the Land of Sha Bebe
The book tells how the Sha Bebe dolls are "born" in the sugarcane fields of Louisiana, and they come to Emily in her time of grief to console her.
The story is ALL about change!
We all must ACCEPT the changes that come into our lives. If we can't do this, then we can't go on and enjoy LIFE. Our souls become stagnant, and who can enjoy life with a soul that can't grow.


The story tells of how the Sha Bebe dolls live for one month in their enchanted doll land. They learn good manners and common sense from their teacher Miss Betty Lou. Their month in Sha Bebe Land is catered by The Sugar Mill Ladies who cook and clean after them.

When their lessons are learned, all the Jolies and the Beaus are ready to enter human land on a magic flying quilt, made by Madame Poulette. The magic quilt brings them to their destination. They are left under Christmas trees, in pirouges, on back porches, on office desks, in gift wrapped boxes, at boucherie's and crawfish boils. Anywhere they are needed to bring someone love, and to make them happy, they are there!

They come to human land ONLY after they have approval from Queen Faustina.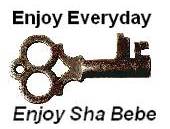 No one leaves the sugarcane fields without the Queens seal! It's a rule!

The Cajun Angels always fly over all the lands to protect and bring hope.

This first tale tells of the story of Emily (a 44 year old woman), and how the dolls came to her in her time of grief to console her and to make her happy again after the loss of her Dad. Jolie and Beau definitely helped her through her time of grief, and they told her everything of the Magical Land of Sha Bebe, where no human has ever gone.

Or have they?

Is there a way for humans to get into the Land of Sha Bebe by following the braided rug road?
While waltzing along the braided rug road
Waltzing along the braided rug road
Dancing and dancing we all sing this song
While waltzing along the braided rug road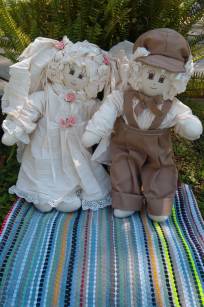 Only Emily knows!




The book has a lot of Cajun fairy tale magic to it~~!

Destined to become the next Louisiana folklore classic.

===========================

Excerpt
join me on Facebook at Beb's Cajun Doll House

https://www.facebook.com/BebsCajunDollHouse
+++++++++++++++++++++++++++++++



Hello my friends, from the residents of The Land of Sha Bebe.

=============================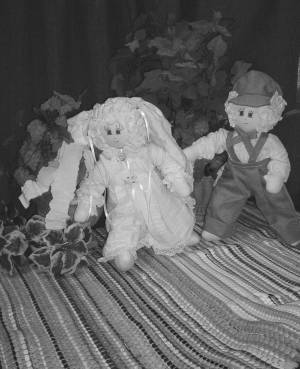 Jolie and Beau were running on the braided rug road in The Land of Sha Bebe. They kept running out of the doll land and into the sugarcane field on foot, until they arrived at Emilyís home in human land. Madame Poulette told them to go quickly after having approval, instead of letting them out of the fields on the magic flying quilt as usual. Why? They didnít know. So they ran as fast as they could.
-------------------------

In enchanted parts of the sugarcane fields of Louisiana, there live a bunch of rag dolls called Sha Bebe. Stories of them were told to me when I was a child, but I didnít believe until 1991 when two of the dolls came running to me while I was rocking on my back porch.

I live in a small town called Mathews. It was a lovely, warm fall afternoon on October 11. My daddy had passed away in April, and I was still sad. My joie de vivre had slipped away from my heart. Thoughts of what a wonderful man he had been still kept slipping into my mind. I was a mature woman of forty-four with two children of my own away at college, but I missed him because I loved him so much, and now my mama was sick in the hospital which added to my sadness. My husband Henri was away at work for fourteen days. He traveled the river, unloading goods at different ports.

I was alone on this day. All of the dishes had been washed and picked up. The bed sheets had all been changed with the white linens that had been dried outdoors on the clothes line. I love the outdoor smell of fresh clean linen. The hardwood floor was shinning from a fresh coat of wax, and the whole house smelled of fig preserves that I had just finished cooking. So, with nothing left to do at the moment, I decided to go on my back porch and sit in my rocking chair with my cat Kato.

While holding Kato on my lap, I was staring into the 40 acres of sugarcane fields that surrounded me, along with so many beautiful oak trees that were full of moss at this time. The whooshing sound of the stalks of sugarcane swaying back and forth from the warm eastern breeze had a soothing effect on my soul. The radio was still on in the kitchen, and I could hear "Shake That Cajun Thing" playing.

Such an upbeat sound caused my feet to start tapping on the wood board floor of the porch. Even Kato loved the music. He had nestled himself on my lap and was purring so loudly that it sounded as though he was humming to the song. I had been rocking back and forth for at least fifteen minutes when, all of a sudden, I thought that I was daydreaming. Planting my two feet firmly on the floor, I threw a long, hard look to the sugarcane fields and then rubbed my eyes, but they were still running towards me, each with a gold box in their hands.

A boy and a girl rag doll ran up the flight of twelve steps, came onto my porch, and both sat next to me on my rocking chair. My cat was still rolled up on my lap and wasnít at all bothered by the dollsí entrance into his territory.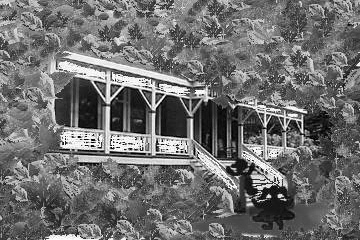 "Hello. My name is Jolie," said the girl doll. "And this is my friend Beau," she continued as she pointed to the boy doll. "Weíve come to bring you love and kindness and to make you happy. My name means pretty in French, and Beauís name means handsome. We each have a box of our landís candy for you," she said as both dolls handed me a gold box filled with candy. "Whatís your name?"

Still thinking that I was daydreaming, I looked at both of them with a confused look, and I answered in a rather shaky voice, "Hello. My name is Emily."

====================================

Read more of the folklore........
88 pages with photos.

Once we come into human land, we can never go back again to that magic place.

"Thereís no magic here in your land, and we stay in human land until we are given up by the human. Your world is much different. Thereís so much anger and jealousy here. In your land you think highly of material things. And money is most important. We have no money in our land. There are no wants and desires when everything is enchanted. Humans have to deal with wants and desires because they lack magic. And these desires get in the way of love and kindness. Really, the magic is always there. Itís just that humans havenít learned how to use it yet. They depend too much on material things."

I listened to Jolie very carefully. "I know many people who want and desire more than what they can have. Then, they get angry if they donít get what they want. I stay away from people with such burning desires because they have no love inside of them."

"Good for you," said Jolie.

"Why would you want to come into human land?" I asked. "You have all that you need in your land."

"We donít want to stay in the sugarcane fields," said Jolie. "Our mission is to bring happiness to humans. Everyone in life has a purpose, and this is our purpose. When we are called to come to a human, something changes inside the human heart. You told us that we made you happy, and your life was changed by us coming to you. Right, Emily?"

"Yes," I admitted. "The burdens in my heart feel much lighter. I love that you are with me. I may have found comfort in another way or another time, but I see what you mean about your purpose in life. This was your time to come to me and I understand."

"Everything must change," Jolie continued. "If things donít change, there is stagnation, and no one wants to be like a muddy old ditch of water that rots and stinks up everything. Right?" Jolie said with a giggle.

Beau wonders why the Cajun angels are flying so low.
--------------------------------
--------------------------------

Also, the books are at libraries in Louisiana and also in our tourist welcome centers!

Leave a review in here or in my guestbook on my HOME web page link.

Thank you so much!
-------------------------------
Dedicated to the Spirit of Louisiana


All rights reserved. All characters and titles are protected by copyright law to Mary Lynn Plaisance.
==================================





Professional Reviews

By Angela Hill
Dear Mary Lynn,


I love your book! What a wonderful story. You are so incredibly talented.

Thank you for the doll so long ago and for your new book. I will treasure both. The best of success to you.


Angela Hill


From Channl 4 News in New Orleans on WWL TV



From the office of the Governor of Louisiana:
Hello Mary Lynn,


Thank you for your letter and adorable book to Governor Kathleen Blanco. Your correspondence has been forwarded to me for a response on her behalf.


Briefly scanning through this wonderful Cajun fairy tale, I declare that "I do believe" In the Land of Sha Bebe! This is wonderful story which interwines fantasy and unique aspects of Louisiana culture into a fairytale. Moreover, Governor Blanco now has a Cajun Fairy tale to read while she travels.


Thank you again and I wish you and your Sha Bebe dolls continued success.


Sincerely


Cherly Shuffield


Constituent Services



I asked the Author's Den for a review
Mary Lynn Plaisance,

Thank you for taking time to write us.

Your use of your homepage on AuthorsDen is EXCELLENT!

Your photos are clear, your links work, your book is in the bookstore
and your additional photos and and audio file using your ADStorage is
wonderful.

I cannot say enough good things about how you present yourself.

I have 2 small but very important suggestions.

1. You can improve your use of "KEYWORDS" this is for people search
the web and how many people fine you. Login and click "My Keywords"
and add at least 8 to 20 keywords where you want to display when
people are searching the Internet. You will need to think like a
reader here.

2. Have you consider starting a blog. Blogs are evolving into a very
good way to attract more readers as well as increase your
creditability and book sales. We plan to send a newsletter about the
importance and benefits of using blogs next week. A blog is like a
daily or weekly diary. To get started, login and click MY BLOG. Today
many of the top CEO, Authors and leaders are using blogging to
communicate on a personal yet professional level with their audience.

Keep up the great work.

Thank you,

Matt Miller
AuthorsDen

==========

Thank you very much!!!!

Mary Lynn Plaisance
==============================
I've asked about a blog. I'll wait until I get the newsletter. But the last thing that I want at this time is to start a public diary of my thoughts !

I have thoughts that scare ME! I'll just keep that side of myself ---to myself. Sometimes I feel like talking and sometimes I don't.

At this time, I feel like writing.

(( HUGS to all ))))





Want to review or comment on this book?
Click here to login!

Need a FREE Reader Membership?
Click here for your Membership!




Reader Reviews for "Do you believe? -- In the Land of Sha Bebe"
Reviewed by Birgit and Roger Pratcher
5/8/2007
Cajun Fairies In the Land of Sha Bebe
By Mary Lynn Plaisance

The legend of the magical fairies and their dolls in the sugarcane fields continues with Mary Lynn Plaisanceís novel Cajun Fairies In the Land of Sha Bebe. Enter a new dimension, be enchanted and fall in love with the magical fairies and dolls in the land of Sha Bebe! (You donít have to be young to enjoy this novel!)
After you enter the magical land of the dolls that live in the sugarcane fields of Louisiana, you will be drawn into the events of a crisis which threatens to destroy the peaceful place of the happy Sha Bebe dolls. Along the read the pictures of the Sha Bebe dolls, created by Mary Lynn Plaisance give the story an extra touch of loving design.
Something was not right in the land of the Sha Bebe dolls. Queen Faustina, who ruled the land, didnít know exactly what was wrong, but something was brewing. She usually was right with her hunches, and boy, she sure felt something was going to go haywire. Worried about the level of her gut feeling, she decided to visit all of the residents to make sure everything was going well in each one of their homes.
Soon enough the Queen will find out that her hunches are right on the spot and will face the greatest evil that has ever posed a threat to her beloved land and all her dolls.
Robes Pierre, a wicked Cajun Fairy, is taking over the spirit of the enchanted Land of Sha Bebe. His wicked spell is taking away all the beauty and the goodness of the land and Queen Faustina will have to face her troubles head on.
With her book Cajun Fairies In the Land of Sha Bebe, folklore author Mary Lynn Plaisance brings yet again the love and comfort of the legendary dolls to life. One just canít resist the Cajun charm of the enchanted land of the Sha Bebe Kingdom and quickly you will drift off into a fantastic adventure, leaving behind your sorrow and worries and come to face the fact that life should really not be all that complicated.
Mary Lynn Plaisance has done a wonderful job inviting the readers to truly relax and escape from the harsh reality of our world into the pleasant world of Cajun magic.
Her love for Louisiana and New Orleans gives the book an extra note of folkloristic entertainment and achievement.
Cajun Fairies In the Land of Sha Bebe can stand as a sequence to Mary Lynn Plaisance first book Do you Believe In the Land of Sha Bebe or stand on its own as a great novel for really all ages and filled with all the right values for the entire family.

© R&B Pratcher 2008
www.wonderfulstories.net

Reviewed by J. C. Downer
1/23/2007
I read this book too! Although it wasn't as intriguing as Cajun Fairies, it set a good introduction for a series of books. Keep the writings coming. You have something going.
J. C.
Reviewed by Michelle Langly
1/17/2007
After getting your second book Cajun Faires for Christmas, I purchased your first book. While they both stand on their own as a good read, I wish I had read them in order. I enjoyed both too much. Both are way kewl. I love fantasy fiction. I'm still watching and waiting for The Wizard of Swamp Alley. :)
Reviewed by Mary Lynn Plaisance
1/24/2006
I truly enjoyed reading In the Land of Sha Bebe by Mary Lynn Plaisance. She makes the sugar cane fields and the ways of the Bayou come alive with her story. I love how the dolls came to her when she was most in need of comfort. Being a doll and fairy tale lover this little book packed a lot of lore and love into one rememberable little story. Looking forward to more tales of Jolie and Beau, Madam Plume and the rest of the dolls from the Land of Sha Bebe, and yes, "I Do Believe".

This is a review that I received from my New York friend, elfina. She the prettiest fairy I've met, and I dedicated Cajun Fairies to her and the Spirt of Louisiana.
Mary Lynn~
Reviewed by Patricia Gaubert
1/14/2006
This is a story I have to read, along with Cajun fairies. After going through your den, I want to read all about the land of the dolls of sha bebe. Every part sounds delightful. Pat from N.C.
Reviewed by Lynn H. Swanson
12/28/2005
You have a new Sha Bebe fan. (lol). I do believe. I do! This short story hit a soft spot in my heart. I recommend to all and didn't know about the second book until now. Can't wait to read it. Good legend you have going. L. H. Swanson
Reviewed by Amanda Parker
12/21/2005
I opened me pressies early. In a brown handbag was a Madame Plume and one of your books. I'm in Colorado and daughters sent this to me. I adore me doll. Story is such a fun tale. It had sad parts that brought tears to me eyes, but it's a fun tale. I read that you're continuing with the legend. I'll continue to read about the dolls who live in the sugarcane. I was born in London. I believe in the magical land. The tale brought joy to me heart this season. I recommend the book.

Amanda Parker.
Reviewed by Ted Prejean
11/28/2005
I believe in the land of sha bebes. I enjoyed the legend. I see you have another book coming out. The legend continues. I can't wait to read about Cajun Fairies. Best wishes. I'll wait for the unveiling of the cover on December 15 at 10:00 in the morning. Ted.
Reviewed by Walter Wallace
11/19/2005
Meeting the characters in Do you believe was enchanting. The legend began with them. I read that the legend continues with a Cajun fairy. I'll be watching to get the second book. Keep the legends going. Walter.
Reviewed by Charlene Boudreaux
11/12/2005
The journey that I took through your short story was one that enchanted me. It kept me amused and involved right until the end. I'd recommend the land of sha bebe for everyone. I absoultely want to read about cajun fairies. Keep the legend going. Charlene
Reviewed by Debbie Frost
10/22/2005
Read your book today. Would recommend it to everyone. My fav part was when the Mom came into the scene. I'm close to my Mom. Can't wait for Cajun Fairies. Sounds like something I'd like to read.
Reviewed by Karen Hebert
10/17/2005
This book is awesome I am not a reader but once I started reading this book I just couldn't put it down. I gave it to one of my friends and she loved it just as much as I did.
You are an amazing writer and I think you should keep Writing.
Reviewed by Carla Manning
10/16/2005
I enjoyed the legend of the sha bebe. It took me back to when I was a kid and believed in everything. Adults take away our dreams in telling us what to believe. Had to tell you that I believe. ::trying to get my dreams back:: Thanks for sharing the legend. Carla.
Reviewed by Lana St. Season
8/21/2005
Good introduction to let people feel the land of the sha bebe dolls. Next one, you give more details for second book. From the intro of the second, seems we'll be in for adventure. Much luck on your next endevor. Can't wait. Adding more after the lost editing..Lana
Reviewed by Mary Lynn Plaisance
8/1/2005
BeB, I gave the entire Sha Bebe doll collection and the book to my great niece. She is absolutely adores them. No one, and I mean no one, is allowed to touch her dolls. She has them in a place of honor in her room and is extremely proud of them. Since we live in Texas, some of her friends had no idea what a Sha Bebe was, much less the dolls. When asked, she answers, "Well, you have to be Cajun to understand, but I'll show them to you and read the book to you, so you can learn." She's now 11, but started her collection last year.

I just read on your website that you are adding to your collection and coming out with a new book. Please let me know when the additional dolls are ready and I'll keep checking for the new book.

Thank you so much for a wonderful Cajun Fairy Tale and for allowing me to make a little girl very happy and very proud of her Cajun Heritage.

God Bless You and your work!
Karen Mayeux

Beaumont, TX

----- Original Message -----
From: Karen Mayeux
To: beb.mobiletel.com
Sent: Monday, August 01, 2005 8:11 AM
Subject: New Dolls and Book


======================================

I'm down to my last email addy. I can't put anymore reviews in here, and I love hearing from all of you! It's very simple to join us in here. Just sign in....... :)

Thank you very much Karen.
Reviewed by Terry Lagarde
7/30/2005
sounded like a book i wanted to read. bought it. read it -n- can't wait til book 2 is out. congrats from upstate la.
Reviewed by Gladys Simon
7/20/2005
You did it! Sister of the Divine Order of YaYa Stuff, lol. I liked the book. I said before that all of us down here on the bayou were surrounded by sugarcane and fairy tales and love.(or something like that). Still proud of you. Good reading for me. ya ya gladys
Reviewed by Janice Helmer
7/18/2005
I have the book, and I'd recommend it to everyone. Beb, you wiped out annother Ya Ya Sister besides me, LOL. I'll let her know. Good Book. ya ya janice
Reviewed by Armand Santi
7/17/2005
Cest te bien bon mon cherie. Beb, I'll say it again. Good introduction to let people feel the land of the sha bebe dolls. Next one, you give more details for second book. Much luck on your next endevor. Armand from Canada.
Reviewed by Lady Rhiannon
7/13/2005
I'm leaving reviews that I lost while I was editing in the den.
Mary Lynn Plaisance. I am also known as Lady Rhiannon!
------------------------------------------------------

From my friend in Austraila, ((Danbro)) 3/12/2005

Through the sugarcane fields of Louisiana we are taken on an enchanting journey into a world of rag dolls living in a magical land! Jolie and Beau show Emily that our lives are constantly changing and that death is a natural process of life. Most importantly, they teach her that there is beauty and magic in life if only we believe.

------------------------------------------------------


From a dear friend on 1/14/2005 (Carol Parker) who lives in Massachusetts:

Oh Beb,
I received my book today.....read it cover to cover.....and all the while I was reading it.....I felt you knew something I didn't. You see, my son called me yesterday. He got his orders. He is being deployed in March. To Saudi Arabia. He has to guard the convoys going into Baghdad. Six months in the Middle East Desert! My heart has just been breaking. I get my mail tonight after work.....I find your book...it brought me comfort. I know the dolls didn't come to me....but the story did. I treasured every word....I wanted to reach out and hug Beau. Your story touched my heart.
I don't know how to find the words to thank you. It was so special. And today of all days....when I was feeling so low. You are my Libran sister.....and you sent this to me when I needed it the most.....strange? I don't think so. I think you see, when you aren't even aware. I can't ever thank you enough....and you will never.....ever.....realize how much it meant to me. Your dolls are magical......they have touched my heart.
((((Warm hugs my BeB))))
~Carol Parker~
------------------------------------------------------------

From my friends~~ (((Moonlady))) and (((( Elfina ))))~~ I can't find your reviews. But they were so good for me to read and I won't forget!!!! ((((( HUGS and LOVE ))))) :-{{{

----------------------------------------------------------

Reviewed by Lana St. Season (Reader) 10/5/2004

Your book gave me the warmest feeling. Chills to the pits of my soul when I read the ending, because I related. The story had it's funny parts, it's serious parts as well as it's sad parts. You covered each emotion well, and packed a lot of story in a short folklore. Loved the ending. Let the good times roll in the end.

Lana
-----------------------------------------------------------


Reviewed by Belinda Jeandron (Reader) 9/23/2004

A good read. A very comforting read for me! I would recommend this short folklore story to anyone. Is the folkore true? I believe it is.
Especially liked the surprise ending.
-----------------------------------------------------------


Reviewed by Lorry Lassless (Reader) 1/5/2005

A Cajun friend sent your short story to me over the holiday season as a gift. It's always a joy to read a story with positive thoughts. Baggass man was something else. lol. Thanks for the legend. It's going to grow as times goes on. Good read!
-----------------------------------------------------------


Reviewed by Brenda Thibodaux (Reader) 1/4/2005

I bought your book not expecting to find a spiritual message for myself, but I sure did. A very good read that I would recommend highly to anyone I come in contact with. I found comfort in the story. Can't wait to read more on the sha bebe. I believe.

Reviewed by Rose Gaudet
9/8/2004
I used my labor day week end to stay home and catch up on some reading. I enjoyed your book through and through. I would've liked to read more about Bagasse Man. That part was so true to the story. There has to be a negative. To have someone named Bagasse Man showed such creativity in you.

The Cajun slant on this story was brilliant. I can't say enough about the story from a true Cajun.

I believe.
Reviewed by Gloria Morrison
9/3/2004
Hi Mary Lynn,

I left this in a message, and have no way now of finding it. I left you this comment about your short story.

I could not put the book down. A short story that brought so many good memories to me. It's not just a Cajun folklore to me. It's for everyone. Everyone can relate to what Emily was going through. Just an adorable story that will go far. I give it 5 stars.

If 10 stars is the highest, then I leave 10.
Reviewed by Mary Lynn Plaisance
8/3/2004
By Janet Foret Lococo author of--(Cajun Woman: Pure and Simple)

"A real Cajun fairy tale by a REAL Cajun. Read about how rag dolls, Jolie and Beau, come to life in order to relieve Emily of her sorrow after her father's death.
Find out if Emily gets to visit The Land of Sha Bťbť to see for herself if everything she was told by Jolie and Beau is true.

This first time effort at writing by Mary Lynn Plaisance tells the story behind the Cajun Sha Bťbť dolls she creates. A poignant tale told in true Cajun style."

Janet Foret Lococo
Author of Cajun Woman: Pure and Simple

sent to me on:

----- Original Message -----
From: Janet Lococo
To: BeB
Sent: Monday, August 02, 2004 6:13 PM
Subject: Re: AuthorsDen: BeB wants to share this with you!

=======================

thank you Janet!
Reviewed by Patricia Kolb
8/2/2004
This is a lovely little easy to read tale for adults and young adults who still believe, or want to! You just fly into Emily's world the way Jolie and Beau did at a time when she needed comfort. I would recommend it for anyone who wants to take a trip into the Land of the ShaBeBe.
Reviewed by Karen Lynn Vidra, The Texas Tornado
8/2/2004
Sounds like a book I would love to read! :)