Amazon
Amazon
AuthorHouse

Sage Sweetwater pens lesbian pulp fiction novel BLUE CORN WOMAN, brainchild of Sage Sweetwater Creative Properties, flagship of Stone Creek Woman - The FOUR CORNERS SERIES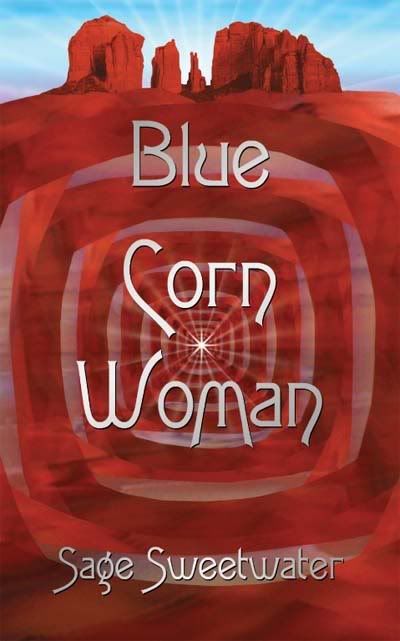 Crying for the blind raven in the Arizona desert
SYNOPSIS
BLUE CORN WOMAN is a lesbian novel that cries for the blind raven, a story of handicap, abandonment and revival.
BLUE CORN WOMAN animates the desert lesbians in the rugged Superstition Mountains of Arizona where the character Blue Corn Woman operates her trading post to feed her and her two wolfdogs, Peyote Two Buttons and Kachina Four Corners.
Played out in a seductive game of Desert Monopoly with life-size tokens of affection, Blue Corn Woman must pay attention to their contents to understand her journey. Her one-night stand with a mysterious Latino woman named Valentina Harmony posing as a sassy cowgirl who rides off at sunrise with her secrets tucked under her saddle spurs Blue Corn Woman to search for Ms. Harmony.
Blue Corn Woman adopts a half-breed Navajo/Mexican orphan boy with fetal alcohol syndrome after she heals him from being lashed by the local gang.
BLUE CORN WOMAN is carved feminist/lesbian spirituality, a Kachina doll symbolizing two women who choose to share one blanket through life on a journey of reviving a pottery hermitage started in the 1960's by Ms. Harmony's grandmother, a homeless gypsy woman.
Women have began showing up to work the clay. The retirement-age group of women can't live on their social security benefits, so they are looking for ways to supplement their income. At Mother Clay, her earning power depends on her mood. Nothing is regimented and there are no time clocks to punch. The clay days are based on the old calendar.
Fire & Henna! Introducing Bollywood Lesbian Character Devi through Shakti, Hinduism, raw female energy.
TO BE ADAPTED TO SCREEN TO BE A MOTION PICTURE!
Purchase Here
http://www.authorhouse.com/bookstore/ItemDetail.aspx?bookid=33507
Sage Sweetwater is professionally represented in Entertainment Law and Show Business. Movie Directors/Producers, Television Producers and Film Companies should direct all Option/Purchase inquiries to:
Andrew J. Contiguglia*
Esquire, Entertainment Law
Contiguglia/Fazzone, P.C.
Denver, Colorado 80246 *Colorado and New York
Phone: 303-780-7333
Fax: 303-780-7337
Email: ajc(at)ajcpc.com
Web sites
http://contiguglia.wordpress.com/about/
http://www.ajcpc.com

Excerpt
Water, money, seed corn, and pawn trinkets are all stored and accounted for, and there is plenty of each, plenty to be reminded of. As a collection, what is displayed in the Blue Corn Trading Post is earmarked for pathfinders, dreamers, healers, spirit guides, mentors, seekers, and post-card poets, writers whose words are dictated by the desert scenery displayed on the cactus lamps with hand-colored photographs printed on plastic-coated paper and laced to a lampshade.

Surely as a hot iron brands a calf, the drama of the day kicks up the dust like the sharp, busy hoofs of a herd of crazy javelina. It is the cowgirls from the Domino Spur Ranch.

The cowgirls raise churro sheep and habanero peppers, but mostly they raise hell, and cure their toothaches with frog fat and cotton wads.

Belle, Dulcie, Favor, Widow, Kitty, Matti Silk, Harlow, Cassidy, and Number Nine, Miss Valentina Harmony took the next step toward the peyote tent.

The poetry began to flow from the cowgirls' loose lips, and the unique way they perfom it embraces cowgirl sexuality that is not likely to be fenced by the "Devil's rope," or barbed wire, although some historians thought barbed wire, revolvers, railroads, and windmills helped tame the West. There is nothing tame about the cowgirls.

Their occasional visits to the Blue Corn Trading Post isn't one-sided. Blue Corn Woman looks forward to their visits and says their true stories are more fascinating than the rumors, and she explores their alluring sagas and cowgirl lingo under the influence of peyote tea and cactus wine, which peels zippers and pops buttons, snaps, rivets, and conchos, and leaves sexual cliffhangers until their next visit...

Copyright 2006 Sage Sweetwater, firebrand lesbian novelist, brainchild of Sage Sweetwater Creative Properties, flagship of Stone Creek Woman