---

Category:

Humor

Publisher:
SELF
Type:
Pages:

140

Copyright:
June 2009


Fiction
---
SMASHWORDS
smashwords


SHE TALKS ABOUT HER 'FIVE BRAINS.' SHE TALKS ABOUT HER SEVEN 'CHAKRAS.' HER BEST FRIEND IS AN ALIEN FROM ANOTHER PLANET. SHE IS TRULYTRULYTRULY CONVINCED SHE WILL BE THE GREATEST ACTRESS OF ALL TIME.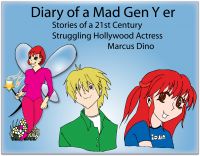 PERHAPS MORE OF A PREQUEL THAN A SEQUEL TO MARCUS DINO'S ELECTRIFYING HOLLYWOOD NOVEL, FIFI ANYTHING GOES IN THE DOUBLES OS (IUNIVERSE 2003, AIRLEAF 2005) DIARY OF A MAD GEN YER FOCUSES ON THE HILLARIOUS ADVENTURES OF 21ST CENTURY ACTRESS/HEROINE FIFI LAROUCHE; HER SILLY POEMS, HER SILLY STORIES, HER SILLY BLOGS, DURING HER DAYS WORKING AS A WAITRESS WHILE PURSUING HER DREAMS OF HOLLYWOOD FAME.
'GEN YER' ALSO INTRODUCES COLORFUL NEW CHARACTERS SUCH AS ALOCKI, THE ALIEN FROM THE PLANET ZATORIS AND 'THE SMARTEST PERSON FIFI EVER MET,' FLIFI FIFIS' 'FAIRY ALTER EGO' FROM THE 'ALTERNATE EARTH' WHO GIVES PEOPLE ADVICE BUT HAS A LITTLE STINGER ON HER TAIL AND STINGS PEOPLE WHO DO WRONG (THEY FEEL ITCHY) AND THROWS PIXIE DUST ON PEOPLE WHO DO RIGHT, AND DICK, AN EVOLUTIONARY SCIENTIST WHO ENJOYS ARGUING RELIGION WITH FIFI AND IS A 'PROUD AETHEIST.'
OF COURSE MANY OF THE MAJOR CHARACTERS IN FIFI SUCH AS BIFF, FIFIS' BOHEMIAN ACTOR/SOFTWARE ENGINEER BOYFRIEND AND CHARLES, FIFI'S DOMINEERING COLLEGE PROFESSOR FATHER WHO THINKS FIFI IS 'WASTING HER TIME IN 'LALA LAND 'AND NEEDS TO COME BACK TO HER HOMETOWN OF DES MOINES IOWA TO WORK AS A BANKER, ARE BACK IN 'GEN YER.'
WHILE FIFI TENDED AT TIMES TO FOCUS ON FIFIS' SERIOUS SIDE, 'GEN YER' ALMOST EXCLUSIVELY FOCUSES ON FIFIS' COMICAL ADVENTURES AND HER 'SILLY THOUGHTS' AND WILL KEEP READERS LAUGHING FROM BEGINNING TO END.

Want to review or comment on this book?
Click here to login!

Need a FREE Reader Membership?
Click here for your Membership!



Reviewed by Jennifer Savell
7/28/2009
Marcus Dino has an amazing ability to create characters. You will not finish this book without laughing a dozen times. This book tells the thoughts, adventures, ideas and even advice of Fifi Larouche. Fifi is such an amazing woman, book character. She is an actress working as a waitress. This book is narrated by her. I found it hard to put down. She offers advice on job searching, foreign films and religion. She is never afraid to share her views or assert herself. I love when she is transported back to a World War II day and encounters a movie star that calls her "honey" and asks her to serve doughnuts. She tells him.

This may be Fifi's story but Dino's other characters add to the humor, especially Fifi's boyfriend and her father. They often try to tell Fifi what to do, with hilarious, though unsuccessful results.

You won't be disappointed by this book!

Reviewed by Tracy Roberts
7/26/2009
In his novel, 'Diary of a Mad Gen Y Er,' author Marcus Dino tells the story of an aspiring actress from Des Moines, Iowa living in Los Angeles, California. Fifi Larouche chronicles her musings, adventures, and humorous observations through unique stories, poems, and blogs, as she works as a waitress while pursuing her dream of becoming a famous Hollywood actress.

Fifi has an extraordinary group of friends such as Biff, her on again off again boyfriend, Alocki and her partner Helos, aliens from another planet called Zatoris, as well as Flifi, Fifi's fairy alter ego. Fifi has a unique gift of rubbing her shoes together before she sleeps which helps her time travel dream. Her dreams take her back to unique times in history as well as into the future where she meets a number of colorful characters. Alocki is always with her in her dreams where they encounter a variety of people and experiences. Characters in the story are unique, eccentric, and full of life, with each seeming to balance Fifi's personality, while helping her to understand and make sense of the world around her. Through these characters, Fifi has many entertaining adventures allowing her to provide comical observations on many of society's 'hot button' issues.

Fifi is a free spirit who confronts life in a unique and extraordinary way. Through Fifi's thoughts and writings, the idiosyncrasies and hypocrisies of the world are revealed in a comical and sometimes serious way. Her reactions are unconventional and provide not only an entertaining assessment of life, but also some serious and thoughtful reflections. As a Gen Y Er, Fifi shares not only comical observations, but also more serious observations such as her father's opinion that she is wasting her life trying to become an actress, as well as society's pressures on Gen Y Ers to conform. Through her experiences and relationships with a wide variety of characters, Fifi shares her outlook on such issues as religion, the future of the planet and its resources, and the function of the brain and how it processes information resulting in how we respond by either through emotion or logical reasoning. One fascinating and unique way of looking at the human body is when Fifi travels into the human body where a discussion with Alocki takes places regarding the affects of unhealthy foods and other contaminants on the body.

'Diary of a Mad Gen Y Er' is an entertaining and fun read that will engage the reader from start to end. It is highly recommend to readers of all ages who enjoy quirky characters who share a unique and comical perspective on life.

Tracy Roberts, Write Field Services

Reviewed by Mary Stanhope
7/26/2009
There is quite an imagination and creativity shown here by Marcus Dino creation of characters. This is a collection of short writings, adventures, random thoughts and poems. The main person he writes about is "Fifi" which can be described as a struggling actress, trying out for each and every role she can think of in her mind. You take a trip on a time machine; since the thoughts flip back and forth from year to year…you never know what you'll read next. For example, one day she's a wench in a London bar and the next she's listening to Jimmy Hendrix…you figure out the leap. One of the best lines states "One of my fellow gen yers says I'm interesting because I'm weird. Another says I'm weird because I'm interesting…I guess both reasoning's make sense." This would be a funny book to keep around on a table for a quick laugh.
Reviewed by mary frantz
7/25/2009
This book is a fast paced collection of stories written in the view of Fifi Larouche. Fifi is a struggling actress who is just waiting for her big break, but don't try to tell her that she may be waiting for a long time, she is currently a waitress, but is convinced that she will make it big in Hollywood.

In the meantime, Fifi takes us on many trips through time and different situations. Eventually, she wakes up, and realizes that these are just dreams. She describes all of her adventures in such detail, that you find yourself just as surprised when she wakes up, as she is!