| | |
| --- | --- |
| | From an ordinary girl, surprises surfaces in her writing. She's no longer quiet. She is no longer a nonentity. She is the one whose words you are reading, right now. |
Background Information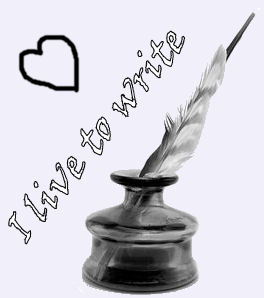 WHO IS MILENA GOMEZ? I am both written and unwritten, but I'm always a writer. I love to write more than I love to read,but getting myself surrounded by BOOKS mean everything to me

My early poetry was the first path which led me towards a solid road onward (I'm still writing!). I also have a passion for fiction in general, you name it and I'll plunge right into it.




* * *

* *

*

WHO WOULD BE MILLIE ANDERSEN?
Millie Andersen is my permanent pen name and after a long and well thought out process I decided that it would be me.This name is a diminutive of my real name, while only my last name changes. I have always wanted to have a pen name of my own and I also needed to create an English name in able to use other than my Hispanic name. You'll see this name soon!
SHORT BIO
From Birth-Coming to America
I was born in Havana, Cuba and as a small child I was always playing, using my imagination and fueling it by reading. My favorite Cuban author of all time has been National Hero and Poet Jose Marti.I came to the United States at age 11, where I had to conquer the language barrier.
At the Moment
I'm finishing my Bachelor's Degree in English at Florida International University after successfully completing my Associates Degree in Literature at Miami Dade College.
To start submitting short stories to various anthology publications, continue writing poetry (every now and then), finish incomplete projects and move on to the next level (Novellas, Novels). It's going to be a new/busy journey (better than before, though), but that's what I love about writing (it is constant as day and night and it always should be!) it is always a journey (with no specific roads to take), it is also beautiful, fruitful and worthwhile.
www.MILENAGOMEZ.com
WHAT'S NEXT? Then, MILLIE ANDERSEN!
Accomplishments
My Real Achievements are:

Possible Chain of Events, a short story (to be published)
Between the Lines, a poem (published)
Temporary Set-backs, a poem (published)
Third Times the Charm, a personal story (unpublished)
Reflected Fear, a poem (unpublished)
** Every new beginning made on 2007-2008!
***Changing my mind for the best and leaving all the baggage behind to start from scratch :)

2008 - ALWAYS OPEN


*~-NEW E-BOOKS-*~




PENDING




* *




*




*~-NEW BOOKS-*~




POETRY - (Pending)




SHORT STORIES - (Pending)




* *




*




FICTION NOVELS - (ULTIMATE GOAL!)




ROMANCE NOVELS - (ULTIMATE GOAL!)




* *




*




*~- NEW ANTHOLOGIES -*~




Millie Andersen



PENDING for 2008 - ALWAYS OPEN



*~-NEW E-BOOKS-*~




PENDING




* *




*




NOVELLAS AS MA/MG - (ULTIMATE GOAL!)




* *




*







Additional Information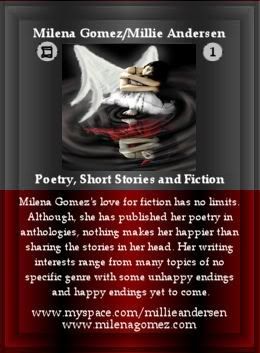 My accomplishment is to see all my work done. To be recognized is a great feeling, but that is not as much a good accomplishment if my work is not really done.And I'm not done yet with my writing, in fact, I'm just beginning. Please come back often, this [writing] journey never ends but as you may know, there's so much to do yet so little time. But hey! Anything is possible or so I have learned.
2007 - (?) Books