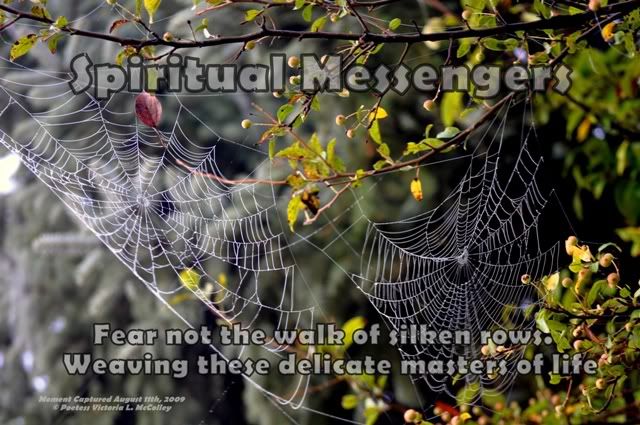 August 11th, 2009 5a/m' ish is a totem moment :)
...as I was walking outside with my boys (Colt, Lightening & Luke) Feeling the beauty of fog, yet the curiosity of an unknown. There in a reflection of prisms glistening in the trees I seen an intricate web. I walked over for a closer look to see if I could perhaps take a picture of a spider. But to no avail there was no spider that I could see. Then I walked a foot away & felt the softness of this web gingerly touch my shoulder, as I looked at it I seen above my head was another web. A slight instance of startle ran through my body as I do not like spiders. But then as I backed away I seen another web, then another, and then yet another…. I thought how odd to see so many webs in one place all clustered together, and why in the tree? The birds I feed surely will destroy the webs….pondering mother nature…she sure is curious sometimes…
Then I looked behind me at another tree, and seen the same prisms glistening. I then looked forward in front of myself to more trees and seen nothing until I tilted my head to try to see if there were webs there too, and there were more webs. At first glance of thought about simulations one would think of a haunted house, I surely did. The presence of all these webs appeared like no-one lived here. Then I walked about counting all the webs, but there were too many to count; 12 trees with hordes of webs, approximately 80+ webs per tree. (some of the trees are actually more than one, but grow as one)
So I went to get my camera...
Thinking to myself why would a spider make so many webs during the night? Birds eat spiders…Then I wondered what kind of spider jumps from tree to tree? The patterns seemed the same; that is why I thought it was one…as for my thoughts about the tree to tree connection, well the webs connected tree to tree… I felt this all meant something significant; especially since Shee has mentioned a book to me about spirituality and animals visiting. I wish I had that book now! :)
Anyway this post is a poetic expression of my feelings to the inspiration of this unusual web encounter. If anyone has an inclination spiritually to this I would love to hear it since I do believe in such occurrences over the scientism reasoning & perfect conditions of weather. (Not that I discredit that) I really felt that I should not be seeing a conditioned belief of webs (the lies we weave when choose to deceive & haunting ect…) If I took on that train of thought this would mean my life past, present & future are all surmounting within lies…how completely dreadful that initial thought felt, but then I felt like a spiritual messenger was showing me webs of reason. I had the distinct feeling to notice, and through taking pictures I could see the webs dissolve as the sunlight warmed the dew drops…it was very interesting to say the least….like watching the pollen from flowers float away…One more thing I noticed about this happening was that the cardinal pair which sing first thing every morning before the other birds were not signing. I thought that to be very odd. They sang later, but it was very odd because they sing just before day break arrives while it is still dark out….
Thanks for Visiting….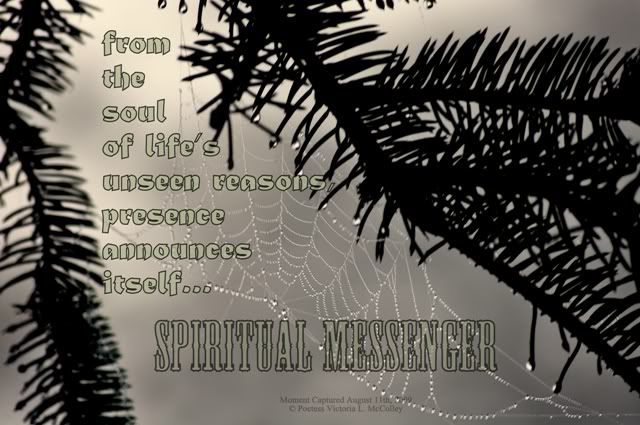 Spiritual Messenger
Weaving an inflection of emotional pursuit,
steadfast dispersions from a spiritual messenger arrive;
bound by the misting quietude of midnight.
Dancing with silk emotions
from the soul of life's unseen reasons,
presence announces itself…
…Tenderly conjoining the illusory path
of purity through authentic meanings,
…values of importance are woven
with transparent clarity towards one final outcome…
…Meandering with the winds of change
cloaked by the cleansing threads of oneness;
Continuances design spin through perseverance
to find magnificent fabrics of life….striven effortlessly
without moments of time escaping into
these diligent measures of distance…
The delicate expressions form intricate beauty,
unifying togetherness;
catching dew drops of purity
through the sublime settles of nightfall's tranquility…
The interlacing fabric of achievements create constructive meanings
dissipating worthy purposes into the expulsions of daybreak…
Cascading into
the translucency of yet another moment in time;
weaving fragility's strength;
…through the diligence of completions web…
The darkness's of hour's nighttime
are patiently strung through
as one magnificent succession of determination;
To be dissolved by the very dew drops it gathers
When exposed to the morning rays of prismatic light;
Casting this spiritual messenger
upon the warm breadth of guidance
released into the dawn…
(Written: August 11th, 2009 11:43 a/m)
In Joy, In Peace, In Grace, In Harmony of Love
Embraced ~ Embrassé
poétesse d'amour ~ poétesse romantique
Copyright© 2009 Poetess Victoria L. McColley